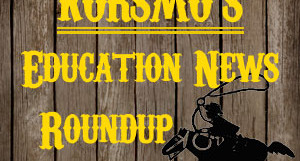 Let's not bury the lede in pithy metaphors of unicorns and seal pups, the teacher/principal evaluation bill passed this week by an overwhelming majority and is on its way to the Governor! The new law will require evaluations to consider  student growth and will utilize evaluations in decisions about tenure, layoffs and firing. This is a huge victory and a great step in forward for Washington's kids. Like all things change, this is not a silver bullet or a panacea or the single answer, but it provides a great foundation in our goal of giving teachers the tools they need to succeed with our kids.
(At this writing, WaKids passed the Senate, but was amended and needs to go back over to the House for concurrence, which is expected. Two huge victories for kids this week.)
Gift Horse: If you thought last week's exchange between Nick Hanauer and Mary Lindquist was just a one off thing, think again. It's the gift that keeps giving. Over at the United Faculty of Washington State, the standard pro-union arguments get made. Another major Democratic contributor chimes in to support the position Hanauer took. And the Op-ed writers kinda love this discussion.  Looking forward to where it goes from here.
Moolah: Senate Democrats released their state budget this week and McClear-ly, they paid attention to the most recent Supreme Court ruling on education funding. The budget spares K-12 and higher education, preserves state need grants and generally moves us in the right direction after years of deep cuts. This is another step in the budget process, where House and Senate versions have to find enough votes – which will mean compromise – but this budget stopped the bleeding for education funding.  Meanwhile, local levies went to ballot and won… of the 157 levies on the ballot 152 passed. Voters approved $2.6 billion in ed funding and $1.2 billion was the result of the other gift that keeps giving, "simple majority."
Movin' on: Interim Superintendent of Seattle Public Schools, Susan Enfield, was the belle of the ball for a few minutes there.  Not one to linger on the stairs while the dancing goes on, Enfield has elected to go to  Highline where she will be Superintendent beginning in July.  "Alignment" with the board was a strong part of her decision making – and presumably a clear set of procedures governing how the board interacts with the Super. Godspeed, Susan.  Go get it right!
Retiring Types: Some notables are hanging up their gloves. State Reps, Mary Lou Dickerson and Phyllis Gutierrez Kenney – both Democrats – are leaving the state house for greener pastures. Congressman Norm Dicks is also retiring. The Bremerton Democrat surprised some by announcing that 36 years is enough. And on the other side of the country, Olympia Snowe dropped jaws when she announced earlier this week that she won't run again to represent Maine in the US Senate. A moderate Republican, the last of a dying breed in Congress, Snowe has apparently had it with polarization and the regressive focus of the hard right of her party. Sadly, there aren't moderate replacements on the horizon – Snowe will be missed.
Tid Bits:
My son informed me this week that they officially celebrated the 100th day of school. Holy cats! Where did the time go? (Easily measured in the number of shoes and pants outworn, but geeze) Our kids are more than half way to the school year finish line. When's the last time you dropped into your child's school?  It's always a good time to support your teachers and school leaders. Thanks to all for your hard work in support of Washington's kids. We continue to make progress.