By Lynne Tucker, School's Out Washington
Today is National Summer Learning Day, a day dedicated to build awareness about the importance of summer learning in closing the achievement gap.
For over 472,000 of Washington's children living in poverty, summer means boredom, loss of free school meals, and limited access to programs that keep them learning, nourished, and ready to return to school on track and at grade level in the fall.
"Summer Learning Loss", the process where school-year gains are lost during summer months, happens if youth are not engaged in learning activities.
Research tells us that the cumulative impact of summer learning loss is the single greatest contributor to the achievement gap for 9th graders – a time when we see higher rates of school drop-out.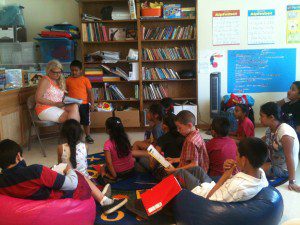 Access to high-quality summer programs is a critical piece of ensuring that investments made in education are maintained over the course of a child's school experience. Children deserve an education that allows them to achieve and graduate career and college ready.
Gary Huggins, chief executive of the National Summer Learning Association, says studies show that kids lose as much as two to three months of math and reading skills over the summer, with the losses being more marked among lower-income kids.
A recent survey of teachers by the National Summer Learning Association, found that 66 percent of them said they're spending at least three to four weeks at the beginning of the school year teaching old concepts that have been forgotten.  Summer is great as a break from school, but it doesn't have to be a break from learning.
School's Out Washington and our state's after school and youth development programs' support and provide quality summer learning programs to ensure our state's investments in education are maintained over the course of a child's school experience, including summertime.
In communities across the state, summer programs are offering kids academic support, enrichment and experiential learning that enhances what they learn doing the school year while providing opportunities to learn, grow, and be healthy with access to free nutritious meals and physical activity.
For more information and resources on summer learning, visit School's Out Washington's Summer Learning Resources page.