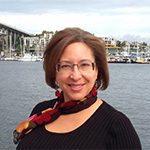 Rosalund ("Roz") Jenkins joined the League of Education Voters (LEV) in 2011 as Director of the Black Education Strategy Roundtable (BESR), an advocacy group striving to close opportunity gaps and elevate achievement for all students in public schools. Roz has years of experience working on education and race issues and prior to joining LEV she served as Executive Director of the Commission on African American Affairs. She recently left our organization to take a position at the Parents Union as their Director of Communications.
During her time at LEV, Roz and BESR were critical partners in LEV's work to transform school discipline reform. Roz and BESR rallied activists around the cause and called and emailed legislators on the Hill nonstop—so much that they shut down the phone lines—and helped to successfully pass a school discipline bill (SB 5946).
According to LEV Board member Thelma Jackson, BESR was the unofficial political action arm of the African American Affairs Commission and Roz was a critical player in the Roundtable's development. "She was a 'great connector' who brings both people and deep subject expertise to the table," says Thelma.
Roz had a great impact on our organization and in supporting BESR, which LEV helped to incubate and which is being established as an independent advocacy organization. Thelma Jackson sums up her contributions best: "No matter where she goes, Rosalund will always be a strong advocate for the underprivileged, underserved, and disenfranchised." Please join me in wishing Roz the best at the Parents Union.