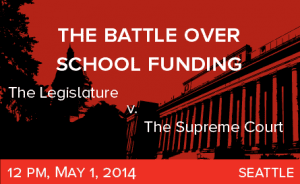 Earlier this year, the State Supreme Court ordered the Washington legislature to provide a plan by April 30, 2014 for fixing the state's unconstitutional education funding system. The McCleary v. Washington decision found that the state was violating its constitutional obligation to amply fund basic education and gave lawmakers a 2018 deadline to fix this violation.
In a recent legal analysis of the case, Judge Phil Talmadge, former State Supreme Court Justice (1995–2001), wrote that the Court's decision to "retain jurisdiction to monitor legislative compliance" represents "uncharted waters" for the state. Judge Talmadge lays out a number of potential outcomes in his analysis of this legislative-judicial battle over school funding, writing: "The issue presented here is not one of whether the Court has the power… to order compliance with its McCleary opinion. It does. The more basic and nuanced question is whether it is wise to exercise that power."
Whether you side with the court or the legislature, we can all agree that Washington's education funding system must be overhauled to ensure that there is ample, equitable, and stable funding.
Please join the League of Education Voters (LEV) Foundation and the Center for American Progress for a lunchtime panel discussion on May 1, 2014. Our panelists are Senator Christine Rolfes, former Justice Phil Talmadge, LEV Director of Government Relations Frank Ordway, and Center for American Progress' Director of Research of Legal Progress Billy Corriher. Our panel of judicial, legislative, and policy experts are sure to engage us in a spirited conversation on education funding in our state.
For more information about this event, visit our Speaker Series web page. To RSVP, please contact Nancy Hopkins at nancy@educationvoters.org or 206.728.6448.