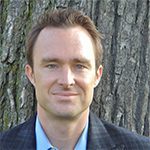 Please join us on Monday, May 19, at 7:00 p.m., for a public reading by Sam Chaltain from his book, Our School: Searching for Community in the Era of Choice. The book documents a year in the life of two schools in the nation's capital—one a new charter school just opening its doors, the other a neighborhood school that first opened in 1924.
In a recent interview about the book, Sam said that his book does not compare traditional and charter public schools. "It's a false choice because they're so different. But what's become clear to me is that each sector most needs the other's strength."
The event is free and open to the public. Tickets and reservations are not required. Parking is available in the Central Library garage for $5 after 5 p.m. Doors will open at 6:30 p.m.
This event is supported by The Seattle Public Library Foundation, author series sponsor Gary Kunis, media sponsor The Seattle Times, and presented in partnership with The Elliott Bay Book Company. The League of Education Voters is also co-sponsoring the event. Books will be available for purchase and signing.
Sam Chaltain is a former teacher and current organizational change consultant based in Washington, DC. He was the National Director of the Forum for Education and Democracy and the founding director of the Five Freedoms Project. His writings have appeared in magazines and newspapers, including the Washington Post, Education Week, and USA Today. A periodic contributor to CNN and Huffington Post, Chaltain is also the author or co-author of six previous books.