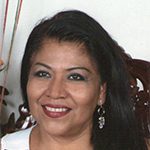 The League of Education Voters' September Activist of the Month, Maria Estrada, submitted a guest op-ed to the Seattle Times that was published this morning: "New graduation rules will help all parents get more involved."
An excerpt from the op-ed is below:
Parent engagement is key to helping students make good decisions about their future and successfully achieve their dreams, particularly during students' high school experiences.

But for me, parent engagement isn't just about what I can do for my daughter. It's also about what I can do to benefit all children.

My daughter Paulina and I moved to Washington from Mexico a few years ago. The language barrier made it difficult for me to understand how the school system worked or what classes my daughter was enrolled in.

Parents need to be engaged, but they also need accessible information about their child's education. From personal experience, I can tell you that remaining engaged in your child's education isn't possible when you're struggling to understand complex, bureaucratic information in a foreign language.
Read the entire article on the Seattle Times website.