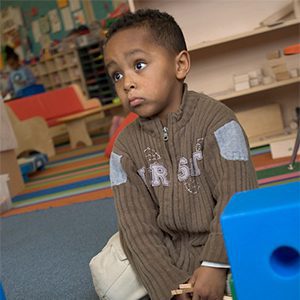 Remember the one about the six-year-old who got kicked out of school for pecking a classmate on the cheek? That happened last year in Colorado, but the same sort of thing could happen in Washington state—and likely does.
A recent article in the Seattle Times by Claudia Rowe reports that 104 kindergartners and first-graders were suspended or expelled in Seattle alone in 2012–2013—the majority, for "other behavior."
What "other behavior" means isn't clear, but it includes any behavior other than weapons, fighting, tobacco, drugs, or alcohol. It includes things like being "disruptive" or "disrespectful"—and the harshness of the punishment is up to the individual teacher or administrator, regardless of the crime.
And when you're six years old, being "disruptive" is often synonymous with "being six."
There is also, Rowe writes, a "growing stack of evidence that shows that educators mete out punishments differently, depending on a student's race."
In Seattle, African American students are more than five times as likely to be suspended or expelled as their white peers. (By comparison, the national average shows that African American students are "only" three times as likely to be suspended or expelled.)
The League of Education Voters (LEV) began working on school discipline in 2011, after conversations with community members around the state brought to light just how punitive and permanent traditional discipline measures can be for students.
The research backed up our conversations from the field, and we found that students who are suspended or expelled are more likely to drop out of school, repeat grades, or end up in jail—often called the "school-to-prison pipeline."
We spent much of the 2013 legislative session working with community partners and advocates throughout Washington to pass Senate Bill 5946 as a first step to transforming school discipline. SB 5946 makes discipline data public and limits the number of days students can be removed from class, keeping more students in school.
Our work with this statewide coalition continued through 2014, and we campaigned around the SB 5946 rules so that the law's implementation would serve all kids well.
At the Office of the Superintendent of Public Instruction (OSPI) public hearing on the SB 5946 rules, LEV Foundation Board Member Dr. Thelma Jackson spoke. She testified that, "For too long, structural inequalities and institutional inequities have resulted in disproportionalities contributing to opportunity gaps, achievement gaps, miscarriages of justice, unfair treatment, and many instances of entry into the school-to-prison pipeline."
Speaking with Rowe for the Seattle Times story, Dr. Jackson stated, "We must penetrate the chronic racial denial that this crisis exists."
Through our work with partners passing and implementing SB 5946, we have ensured that:
Expulsions are limited to one year unless there are issues of public health and safety, in which case a school may petition the district superintended for an extension.
Suspensions are limited to one semester or trimester.
Emergency expulsions must end or be converted to another form of discipline within 10 school days.
Discipline data must be made public by OSPI, broken down by demographics, including race, socioeconomic status, and gender.
Reengagement plans and meetings must be developed for students to smooth their transition back into the classroom, tailored to each student's circumstances.
A statewide taskforce has been created as a result of the law that will develop consistent definitions of discipline and an increased collection of discipline data.
These changes are an important first step in transforming school discipline—and helping to ensure that six-year-olds aren't punished for being six.
Read more about our work on transforming school discipline on our website.