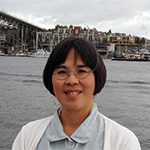 I invite you to join me over coffee for a series of informal meetings to share your stories and discuss how to advocate for education to our policymakers.
This is a critical year for education. We are working to ensure that increases in education funding—as a result of McCleary v. Washington or other efforts—are ample, equitable, stable, and targeted toward evidenced-based strategies that improve access and outcomes for all students. Our vision for public education is one that guarantees every Washington student the opportunity for a high-quality education from early learning through the first two years of college.
I am holding two different types of coffee meetings multiple times each month:
The first is a way to share your stories and hear about what is happening in your community. Chat with us about your experiences advocating for change in your community and get to know your neighbors and community members better!
The second is a way to share your stories and learn how to best share those stories with your policymakers. Chat with us about your hopes and practice advocacy work—from written or online messages to our legislators to phone calls, from in-person meetings with legislators to townhall meetings.
These are both drop-in meetings. Please stop by and enjoy a cup of coffee on me!
Below are the scheduled coffee meetings for the month of March.
I hope you will join me! If you have any questions, please contact me at Joyce@educationvoters.org or 206.251.2629.