While our state legislators continue to argue over the budget, we're just days away from a government shutdown. State employees have begun receiving temporary layoff notices, and many state agencies will shut down on July 1 without an agreement between legislative chambers and a signed budget by midnight on June 30.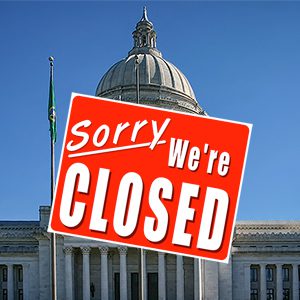 What will happen if our government shuts down?
If Governor Inslee is unable to sign the budget before July 1, state employees will be affected—but so will parents, children, and small business owners. And those hit hardest will be low-income parents and families. You see, if the budget is not signed by July 1, licensed childcare providers who received state funding will be unable to work, and this could have a huge impact on families.
I asked two childcare providers to explain the impact a government shutdown could have on their clients.
Bertha Ramirez, a licensed home childcare provider in the Pasco community, says:
I have served my community and low-income families and children for the last 17 years, but I will not be able to care for state-subsidized children without a state budget in place by July 1. In order for me to maintain the quality of care that I have worked so hard to achieve through classes, trainings, and investing in quality materials, I cannot work for free. I have discussed the situation with the families I serve, and the parents are very worried about what they will do so they can work without access to childcare. I feel so bad for them, but the only people that can stop this from happening are our legislators.
Jeff Robison, owner of the Bilingual Learning Center in Kennewick, says:
The Bilingual Learning Child Care Center will have to discontinue service for state-funded children on July 1 if we do not have a signed and ratified budget by then. Parents will either need to make alternate arrangements, which could put their children at risk if they are not in a licensed child care setting, or put their livelihood at risk if they choose not report for work or school until the budget is approved and signed. Not only will this impact the children and families that we serve, it will also negatively impact our child care center staff because we will not have the enrollment numbers to keep all of our staff employed. In addition, if our free and reduced price lunch students drop below 26 percent, our funding from the U.S. Department of Agriculture could be impacted.
If parents who are employed as migrant workers cannot find childcare, they must either risk losing their jobs to stay home and care for their children during peak harvest season, or leave their children at home with no adult supervision or care.
Legislators should connect the dots on who a government shutdown will really affect the most.