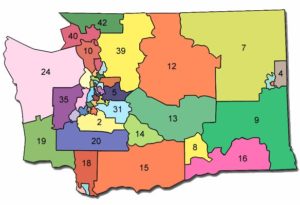 For the 2016 general election, the League of Education Voters has endorsed 37 candidates that we believe will help to improve outcomes for our state's students.  They shared some of our beliefs like the importance of the education continuum, the importance of excellent instruction and the importance of believing every child can succeed.  We are endorsing 37 candidates on both sides of the aisle with whom we share these values.
Governor Jay Inslee says, "I'm thrilled to receive the League of Education Voters endorsement. LEV knows we've got to keep working to ensure our children receive the education they need to compete in a rapidly changing global economy that constantly demands new skills. That's why I worked with both Republicans and Democrats to pass historic and comprehensive improvements to the education our children receive, including implementing all-day kindergarten, lowering class sizes for grades K-3, and cutting tuition at state community colleges, technical colleges, and 4-year schools. I won't rest until we fulfill our obligation to our kids and grandkids, because I believe every student deserves a good education and an opportunity to fulfill their dreams."
Below is the list of candidates LEV has endorsed.
To support these candidates, donate to our Political Action Fund today!
Governor Endorsement:  Governor Jay Inslee
Legislative Endorsements:
Candidates for the Senate
| District | Name | Party |
| --- | --- | --- |
| 1 | Guy Palumbo | D |
| 3 | Andy Billig | D |
| 5 | Mark Mullet | D |
| 9 | Mark Schoesler | R |
| 10 | Barbara Bailey | R |
| 16 | Maureen Walsh | R |
| 18 | Ann Rivers | R |
| 20 | John Braun | R |
| 23 | Christine Rolfes | D |
| 25 | Hans Zeiger | R |
| 36 | Reuven Carlyle | D |
| 41 | Steve Litzow | R |
Candidates for the House of Representatives
| District | Name | Party |
| --- | --- | --- |
| 2 | JT Wilcox | R |
| 5 | Paul Graves | R |
| 10 | Norma Smith | R |
| 13 | Tom Dent | R |
| 13 | Matt Manweller | R |
| 21 | Lillian Ortiz-Self | D |
| 23 | Drew Hansen | D |
| 25 | Melanie Stambaugh | R |
| 26 | Michelle Caldier | R |
| 28 | Dick Muri | R |
| 29 | David Sawyer | D |
| 31 | Drew Stokesbary | R |
| 32 | Ruth Kagi | D |
| 33 | Tina Orwall | D |
| 36 | Gael Tarleton | D |
| 37 | Eric Pettigrew | D |
| 39 | Dan Kristiansen | R |
| 40 | Kris Lytton | D |
| 41 | Tana Senn | D |
| 41 | Judy Clibborn | D |
| 43 | Frank Chopp | D |
| 44 | John Lovick | D |
| 45 | Larry Springer | D |
| 47 | Pat Sullivan | D |
| 47 | Brooke Valentine | D |