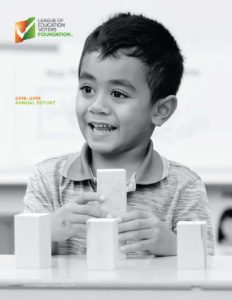 League of Education Voters Foundation engages in our work in multiple ways — soliciting feedback from communities about their needs, researching best practice and impact of existing policies, providing robust and nuanced information to the public and decision-makers about the issues most impacting students in our system, and working with partners and communities to push for change.
Across all of our policy issue areas in 2018–19, showcased in our annual report, we endeavor to create systems that serve and support students furthest from opportunity and most impacted by systems that do not recognize or are not designed to address their needs. Throughout this report, you will see these approaches in our community work, research, and policy advocacy — whether it's through advocating a restructure of our funding systems, increasing access to programs, or rethinking how we design classrooms. In order to do this work authentically and effectively, we are also embarking on our own internal organizational journey around equity, how we engage and walk alongside and with communities and families, and our role in making institutional changes.
We are excited about the work we have accomplished together, eager for the work ahead, and happy to reflect on it with you.
Read the full report: League of Education Voters Foundation Annual Report 2018-2019 (PDF)
Our Work
Early Childhood Education
Early learning in and out of the home ensures students arrive at kindergarten ready to learn and thrive. State investments in early learning seek to close opportunity and achievement gaps by focusing on students who may otherwise have limited access to high-quality early learning environments. LEV has supported strong investments in early learning environments for many years based on the research about the links between early learning and kindergarten readiness as a determinant for school success.
Over the past several years, our research shows that many families have seen an erosion in their ability to pay for locally-available high-quality childcare programs due to increasing costs. During the past two legislative sessions, we have advocated for the state to close these income-based opportunity gaps by investing more in both Washington's highly successful state-subsidized preschool program, the Early Childhood Education and Assistance Program (ECEAP), and by supporting parents to access other quality early learning settings for children 0-5 years old through increasing state reimbursement rates to childcare providers. We also supported another key program for families — a larger investment in home visiting programs — a research-proven, targeted strategy to increase academic outcomes and decrease the likelihood of child abuse and neglect.
The legislature did make several important investments in early childhood over the past two years, increasing the reimbursement rate for ECEAP preschool providers and childcare providers that implement Early Achievers (a quality program). They also expanded eligibility for kids experiencing risk factors but above the income eligibility threshold, and launched planning for an earlier (age) start to ECEAP services for low-income kids. Additional funding was also provided to expand access to home visiting services, and the capital budget for 2019-2021 invested over $30 million for early learning projects across the state.
To support our early childhood education advocacy efforts, LEV published guest blogs by families who benefited from ECEAP, and presented a podcast interview with Heather Moss, Deputy Director of the Washington State Department of Children, Youth, and Families (DCYF). During the 2019 session, LEV early childhood learning supporters sent nearly 1,200 emails to legislators calling out the importance of early education and family support.
What's next: LEV recognizes the importance of high-quality early learning for all children to be ready to enter kindergarten. In 2020, we will continue to support and collaborate with partners across the early learning landscape, working to assure adequate investment in high-quality options for preschool and childcare for children who need access. We will also look for options to support linkages between early learning environments and kindergarten, both at the system and policy levels, and how data and research can support ongoing work. We will continue to work with our community partners across the state and amplify the stories of parents and providers. We believe Washington can and should do more to provide a robust, high-quality system of early learning opportunities for young children as a key strategy to close gaps in educational outcomes.
Paying for K-12 Education
As a result of the Washington Supreme Court's McCleary case addressing basic education funding, the legislature invested an additional $8.3 billion in state revenues into K-12 in 2017 and 2018.
However, despite progress in the total amount of state money for schools, little progress was made to distribute the money more effectively and equitably, meaning the additional investments may not have the desired impact on improving student outcomes and closing gaps. To address these issues related to strengthening our system, LEV advocated for (1 ) student-centered funding
structures that target resources based on the needs of students, (2) increased transparency on how school districts around the state spend their resources, and (3) fair access to enrichment funds (beyond the state's required investment in basic education), both for local levy revenues and additional state dollars (local effort assistance) for all local education agencies (school districts, charter public schools, and tribal compact schools).
Because we believe communities deserve and need full information about how education is funded, LEV utilized interactive maps, produced a Local Levy FAQ, and hosted educational webinars to educate policymakers and communities around Washington on the impact of the funding changes and continued inequities. We also argued our case in editorial board visits and media submissions. During the 2019 session, LEV supporters contributed to our equitable education finance advocacy efforts by sending nearly 500 emails to legislators.
Though we were disappointed that funding targeted to student needs was not part of the overall funding approach, special education services received a modest fund increase in both 2018 and 2019, which is a partial win and down payment for the 155,000 eligible students. LEV is also glad for required transparency of how state and local dollars are spent at the local level, beginning in the 2019-2020 school year. This additional information will allow families, policymakers, and opinion leaders to determine if resources are getting to students who need it the most. The Legislature in 2019 also ultimately allowed some districts to raise additional levy dollars (reversing its earlier action to limit levies due to the state's duty to fund education), but this still results in unequal access to funding. (Money through levies and state local effort assistance funds are intended for local enrichments, and the unequal property values across the state and a lower cap impacts what some districts can raise.)
What's next: With enhanced state investments and formula adjustments that fund education, it is important to fully understand the implications of these investments, including possible unintended consequences and continued inequities. LEV will continue to work toward a transparent system for investments that both direct and track dollars to the student level, and continue to advocate for fully-funded, fair investments across the state. Over the next several years, we expect to monitor investments, seek to understand differences in student outcomes, and work with our partners to champion equity-based investments to meet the specific learning needs of students across Washington. We will do this by putting students in the center of the funding equation.
School Climate
Students learn most effectively when their schools feel safe, inclusive, supportive, and respectful. Creating positive school climates and providing student supports (caring adults with specialized skills and access to targeted resources that meet students where they are) can mitigate the impacts of trauma, mental health needs, and other non-academic factors that affect a student's ability to engage in learning. These are instrumental in closing opportunity and achievement gaps and improving student outcomes.
In both the 2018 and 2019 legislative sessions, we advocated for increased support staff such as nurses, counselors, and social workers, training for school staff in social emotional learning (SEL) and addressing trauma, and increased access to student mental health services. In 2019, we advocated for increasing capacity in schools and districts to successfully implement specific strategies to address these needs. We supported protocols and benchmarks that, when fully implemented, will assure that students receive wrap-around supports.
LEV also continued to promote broad public awareness of opportunities to improve school climates through webinars on concrete practices to support students impacted by complex trauma, the proposed state changes to disciplinary rules for schools, and an expert webinar on how to implement mental health supports in schools. Through our field work, we supported the Every Student Counts Alliance (ESCA), a group of advocates, parents, and community leaders seeking to reform school discipline in Spokane, and convened parent training sessions and roundtables where students met with local legislators in the Tri-Cities area. During the 2019 session, LEV supporters contributed to our school climate advocacy efforts by sending nearly 20,000 emails to legislators — the highest engagement of any of our issue areas. LEV also published podcasts on mental and physical health supports for students, Adverse Childhood Experiences (ACEs), and on social emotional learning (SEL).
The legislature in 2018 and 2019 discussed a number of proposals to increase supports in schools. These discussions resulted in the creation of a children's mental health workgroup, a school safety and student well-being workgroup, and the adoption of the Social Emotional Learning benchmarks developed by the state. Unfortunately, the legislature did not fund any staffing level increases in school nurses, counselors, or social workers. However, one of the state-funded professional development days must now be used for training in student well-being related topics, such as trauma-informed instruction, social emotional learning, or mental health first aid.
What's next: LEV will continue to support policies and strategies that enhance inclusivity, belonging, and supports for all children, with an eye towards ensuring that children who need more support have access to more support. For LEV in 2020, this means strategically monitoring implementation of the state's new disciplinary rules to be rolled out in the 2019-20 school year, working with parents, families, and academic leaders to assure that the types of wrap-around supports needed for students experiencing trauma or crisis are in place, and that teachers are equipped with the tools they need to promote positive school climates. It also means monitoring the new workgroups and committees and helping to identify smart solutions that promote student well-being, and continuing to champion policies and approaches, such as a stronger special education system, that will better meet the needs of students in positive school climates.
College and Career Readiness / Ensuring Access to College and Career Choices
A credential after high school — either a certificate, two-year, or four-year degree — will be necessary for 70% of Washington jobs by 2020. In order to prepare students for family-wage jobs, we need to ensure that a high school diploma in Washington is meaningful and robust, and that students in college and on career pathways have the supports necessary to complete their degree or credential. Over the past decade, Washington and other states have enacted policies and practices intended to strengthen student outcomes, both to boost graduation rates, and to assure a strong diploma, including linking passage of the state assessment with graduation. In addition, Washington acted to improve college and career counseling by requiring a 'High School and Beyond Plan' for every student, expanding offerings of college credit for certain high school courses ('dual credit'), and requiring 24 credits to graduate. In 2018 and 2019, we advocated to continue rigorous standards for graduation, as the legislature added alternatives to passing the state assessment. We also conducted research to determine how the policy was impacting different groups of students.
Increasing graduation requirements from 21 to 24 credits aimed to address persistent barriers preventing students from being prepared for success in life after high school. These barriers include not meeting all course requirements for entry into Washington's four-year public universities, repeating classes at college that could have been taken in high school, and 'tracking' of students of color and students from low-income households away from college. Since the 24-credit law is intended to remove barriers to post-secondary education for all Washington students — and only two-thirds of districts are currently implementing it — LEV sought to understand the slow path to full implementation of this policy through targeted research on implementation of the 24-credit diploma.
Besides strong foundations, in order to prepare students for family-wage jobs, we need to increase access to, enrollment in, and completion of postsecondary programs — particularly for students who are historically and systemically underserved and underrepresented in our postsecondary institutions.
Each of these pieces requires policy and systems supports that are intentional and lift up students to their highest potential. As part of the Washington College Promise Coalition, LEV advocated over the past two years to increase equitable access to higher education by fully funding the Washington College Grant (formerly known as the State Need Grant) for low-income students and continued funding for the College Bound Scholarship, including for non-citizen students with specific immigration statuses. In 2019, LEV supporters contributed to these advocacy efforts by sending nearly 1,800 emails to legislators. Over a two-year period, the legislature acted not only to increase funding for the Washington College Grant but stepped up investments to reach full funding of the grant in the 2020-21 school year so that every income-eligible student will have the support that they need, eliminating the wait-list. This is a huge step forward for Washington's students, and we thank the legislature for its expanded investment in students' futures.
LEV also testified in favor of other supports for college students needing specific assistance to be able to work alongside their classmates, such as subsidized childcare for full-time students. In these ways, we are opening the doors for all students to be able to be successful as they enter the college pathway of their choosing.
What's next: Our research focus in 2019 studies how new policies may be helping to close gaps in college and career preparation through adequate planning, information, exposure, and access to needed courses. We are working with districts, parents, and students to understand how the state's High School and Beyond Plan is being implemented, available dual credit opportunities, and career technical education (CTE) options. LEV will pursue potential advocacy that comes out of our research about what districts actually need to implement these policies to ensure that every student has access to all of the academic and preparatory opportunities, regardless of where they live. We also look forward to the incredible boost to our college-going population that the fully funded Washington College Grant will provide.
Special Education
Our current system of providing programming to the 155,000 Washington students requiring special education services is insufficient in both the funding and outcomes for students. Washington lags behind other states in graduation and rates of inclusion for our students, all of whom are capable of advancing in their learning. For the 2019 legislative session, LEV and partners co-launched the Investing in Student Potential coalition to create comprehensive changes to the funding structures for special education, creating equity for students in small local education agencies (school districts, charter public schools, and tribal compact schools), reducing stigma, and educating and supporting legislators to provide services that promote inclusion and transition.
In 2019, we advocated for a state funding system that provides sufficient funds for students with disabilities, improving how we support and prepare educators to better meet the needs of students with disabilities, as well as increasing the accessibility and transparency of information on special education funding, spending, and data (i.e. improved reporting of student outcome data disaggregated by race and/or disability type to better understand how students are being served).
The 2019 legislative session saw the most conversation on special education of any session in recent memory. Legislators exhibited a commitment to addressing the shortfalls in funding and learning about the necessary systems and programming changes to improve outcomes for students receiving special education services. There were a number of proposals and promising conversations about investments in professional development, family advocates, and demonstration sites to implement best practices. While these policy proposals did not make it into any final legislation, the groundwork has been laid for future efforts to create more inclusive schools to better meet the needs of every student. The legislature increased funding for special education services in both the 2018 and 2019 sessions, and in 2019 made a one-time investment of $25 million in professional development for educators on inclusive practices.
To support our advocacy efforts, LEV hosted webinars on the special education landscape in Washington and special education from a rural and urban perspective. We also published a podcast featuring Glenna Gallo, Assistant Superintendent of Special Education Services at the Office of the Superintendent of Public Instruction (OSPI). The Investing in Student Potential Advocacy Day brought nearly 150 parents and students from across the state to meet with 47 legislators. During the 2019 session, LEV supporters contributed by sending 1,200 emails to legislators.
What's next: LEV's work in special education supports the many different individual and organizational advocates who have for decades supported best practices and inclusionary models, recognizing that all students can learn. As we champion an equitable education system, we will continue to support special education funding models, opportunities for professional development, and practices that result in significantly higher gains for all students who are eligible for special education services. Our special education work links with our school climate and education funding work to establish the best possible outcomes for students. Through ongoing work with our partners in the Investing in Student Potential coalition, we will design strategic campaigns to elevate and resolve these policy challenges for our state.
Increasing Personalized Learning Experiences
Learning Opportunities Outside the School Day and Year
A student doesn't stop learning when the afternoon bell rings — learning needed for college and career preparation happens through activities, interactions, and experiences throughout a student's day. Students need access to high-quality, expanded learning opportunities before and after school, and in the summer, to deepen and enhance their learning in and out of the classroom. These strategies tie to our school climate work, our special education work, funding for K-12 work, and our work on college and career preparation and college access.
In 2018 and 2019, LEV advocated with the Expanded Learning Opportunities (ELO) Network for an additional state $2M investment in the Expanded Learning Opportunities Quality Initiative that would increase the number of youth who can be served by high-quality programs, along with support for programs in foster care, students experiencing homelessness, or youth involved in the juvenile justice system. We also advocated for the creation of a strategic workgroup to develop a statewide agency coordinating strategy to prevent involvement in these systems as much as possible — through increasing access to known programs that boost youth success. Recognizing the importance of providing career and work-based exploration opportunities for all students, we advocated with the Career Connect Washington Initiative for additional funding for afterschool and summer learning opportunities. LEV supporters contributed to our advocacy efforts by sending nearly 2,000 emails to legislators about the importance of investing in these types of approaches and opportunities.
In both the 2018 and 2019 sessions, the legislature provided $750,000 to the ELO Quality Initiative for program continuation. No additional funding for career and work-based exploration opportunities was included in the state budget, and the strategic workgroup has not yet been created.
What's next: We will continue to support strategies that ensure that students have access to high-quality afterschool and summer programming, targeted to students furthest from opportunity.
Supporting Public School Options
Some students may need access to different learning environments such as those offered in Washington's charter public schools. Foundations for a strong educational experience recognize that every learner is unique and that we need to meet learners where they are. This approach ties to our special education work and our school climate work.
Washington's charter public schools offer project-based and other learning environments that may work best for some students. LEV continues to advocate for Washington's charter public schools to have access to equitable public financing and to recognize the unique environments that they provide for Washington's public school students.
In order for charter public schools to be successful, and since charter public schools cannot access local levy funds, we support access to enrichment funds from the state of Washington so that the schools can continue to support their students and remain financially viable. Charter public schools serve, on average, more students with disabilities and other higher-need students than their surrounding district, so it is vital that they have access to the resources necessary to meet student needs.
What's Next: Looking forward, LEV will continue to support strategies that recognize the need to fund charter public schools in an equitable manner to support the public school students whom they serve.
South Shore PreK-8
Just as League of Education Voters advocates for student-centered policies at the state level to give every student what they need to be successful at school, through our work with the Opportunities for Education Foundation we provide a grant to South Shore PreK-8, located in the heart of Seattle's Rainier Valley, to implement those same strategies at the local level. South Shore is among the most diverse schools in the state: 45% of students are Black, 24% of students are Asian, 11% of students are two or more races, 10% of students are Latino, 8% of students are White, and 1% of students are Native American. One-quarter of students are English Language Learners (ELL), 9% of students are experiencing homelessness, 68% of students are in low-income families, and 15% of students have disabilities.
The South Shore grant aims to support the well-being and development of every aspect of a child, and therefore touches many parts of the school experience for students. For 2018-19, the major area of investment has been the adoption and implementation of Multi-Tiered Systems of Support, which are specific, personalized interventions based on a student's unique needs.
Aligned with LEV's advocacy for supportive, safe schools and trauma-informed practice, LEV partially funds a Wellness Team that provides students with reliable and consistent access to mental health services. A full-time clinical specialist is available on-site to children experiencing trauma in their lives in the forms of community violence, housing instability, and family trauma. The team also helps teachers effectively support students with behavioral issues, and over the past two years the out-of-school discipline rate has dropped dramatically from 7.3% to 2.9% as more teachers feel equipped to keep students in class, thus reducing lost learning time.
In the area of high-quality Early Childhood Education, LEV has supported the PreK program at South Shore since 2011, and the South Shore pilot influenced a successful initiative to bring PreK to all Seattle district schools beginning in 2014. The program continues to have strong outcomes. In 2018-19, 87% of South Shore kindergarten students entered school kindergarten-ready, compared to just 82% of students meeting that measure across the district. Considering 90% of kindergarten students attended preschool at South Shore, it's clear that the PreK program should be credited for kindergarten readiness.
What's next: League of Education Voters Foundation continues to support the South Shore PreK-8 school and will be working with the school on several evaluation options to assess program impact during the 2019-2020 school year.
Read the full report: League of Education Voters Foundation Annual Report 2018-2019 (PDF)
Love what we do? Support our work
Want to find out the latest in education news in Washington? Subscribe to our newsletter
Want to learn more about League of Education Voters? Find out here