Lunchtime LEVinars
Welcome to Lunchtime LEVinars, free, interactive, online webinars on important and timely issues hosted by the League of Education Voters (LEV). These lunchtime webinars are designed to share information and build knowledge about the issues at the core of LEV's policy priorities.
LEV will host each 30-minute webinar, which will include a 15–20 minute presentation by an expert from the field and 10 minutes of Q&A. Each webinar will be recorded and archived on our website.
Most Recent LEVinar
---
What to Expect in the 2020 Legislative Session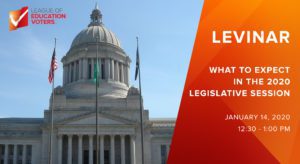 In the 2020 legislative session, League of Education Voters will prioritize policies to help lay the foundation of an equitable educational system that provides what students need, when and where they need it.
In this webinar, the League of Education Voters Team gives an overview of the 2020 landscape; outlines the possibilities in 2020 around sufficient and effective resources for every student receiving special education services, supportive and safe learning environments for every student in K-12 schools, equitable levy and local effort assistance structures targeted to student needs, and high-quality early childhood education for every early learner; and answers your questions.
Moderated by League of Education Voters Communications Director Arik Korman.
---
Love what we do? Support our work
Want to find out the latest in education news in Washington? Subscribe to our newsletter
Want to learn more about League of Education Voters? Find out here