Lunchtime LEVinars
Welcome to Lunchtime LEVinars, free, interactive, online webinars on important and timely issues hosted by the League of Education Voters (LEV). These lunchtime webinars are designed to share information and build knowledge about the issues at the core of LEV's policy priorities.
LEV will host each 30 to 60-minute webinar, which will include a 20–30 minute presentation by an expert from the field and 10 minutes of Q&A. Each webinar will be recorded and archived on our website.
Most Recent LEVinar
---
Ending Isolation Practices in Washington K-12 Schools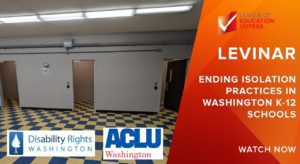 Isolating students in schools creates harm that is lifelong and disabling.
In this webinar, we spotlight findings from a new ACLU/Disability Rights Washington report and an Office of the Superintendent of Public Instruction (OSPI)-led legislative workgroup report on isolation and restraint practices in Washington state and discuss the impacts of isolation in K-12 schools, why this practice must end, and alternatives to isolation.
Panelists include:
Moderated by League of Education Voters Communications Director Arik Korman.
Watch Now 

(Captioning is available in English, Spanish, and Somali)
Upcoming LEVinar
---
The Special Education Funding Cap
Currently in Washington, state funding to school districts for students who receive special education services is capped at 13.5 percent of the district's student population.
In this free webinar, we will discuss the financial and policy implications for students, families, and districts.
Spanish interpretation and closed captioning in English will be provided.
Moderated by League of Education Voters Communications Director Arik Korman.
Thursday, February 16, 2023
12:30 – 1:30 pm
Registration Coming Soon
---
Love what we do? Support our work
Want to find out the latest in education news in Washington? Subscribe to our newsletter
Want to learn more about League of Education Voters? Find out here