Lunchtime LEVinars
Welcome to Lunchtime LEVinars, free, interactive, online webinars on important and timely issues hosted by the League of Education Voters (LEV). These lunchtime webinars are designed to share information and build knowledge about the issues at the core of LEV's policy priorities.
LEV will host each 30-minute webinar, which will include a 15–20 minute presentation by an expert from the field and 10 minutes of Q&A. Each webinar will be recorded and archived on our website.
Most Recent LEVinar
---
Superintendent Chris Reykdal on Washington Schools during COVID-19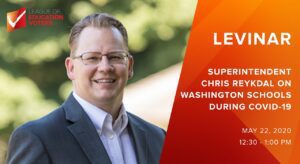 Due to the COVID-19 pandemic, all public and private schools in Washington state are closed until the end of the academic year in June. School districts across Washington state are implementing continuous learning plans, and students, parents, and educators are trying to navigate new systems and expectations.
In this webinar, Washington state Superintendent of Public Instruction Chris Reykdal outlines the current status of our schools and answers your questions.
Moderated by League of Education Voters Communications Director Arik Korman.
---
Upcoming LEVinars
On June 3 at 12:30 pm, South Shore PreK-8 in Seattle and The Community School in Spokane, which serves students in grades 9-12, will share what is working to keep students engaged during this time of remote learning and will answer your questions. Register now.
On June 11 at 12:30 pm, a panel of superintendents from across Washington will share what is working in their districts and what they need now to better support students during COVID-19. Seattle Superintendent Denise Juneau, Spokane Superintendent Shelley Redinger, Everett Superintendent Ian Saltzman, and North Kitsap Superintendent Laurynn Evans are confirmed, and we are filling out the panel with a small rural district and a tribal compact school. Register now.
---
Love what we do? Support our work
Want to find out the latest in education news in Washington? Subscribe to our newsletter
Want to learn more about League of Education Voters? Find out here