Lunchtime LEVinars
Welcome to Lunchtime LEVinars, free, interactive, online webinars on important and timely issues hosted by the League of Education Voters (LEV). These lunchtime webinars are designed to share information and build knowledge about the issues at the core of LEV's policy priorities.
LEV will host each 30 to 60-minute webinar, which will include a 20–30 minute presentation by an expert from the field and 10 minutes of Q&A. Each webinar will be recorded and archived on our website.
Most Recent LEVinar
---
Washington Education Funding and School District Budget Challenges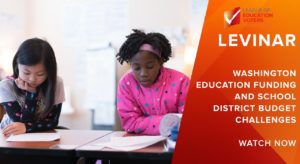 As federal stimulus dollars start playing a smaller part in school budgets, school districts across Washington state face challenging decision points. Many districts are exploring consolidating resources and serving students with fewer staff.
In this webinar, we examine why districts are in this situation and discuss possible pathways forward at the state and local level.
Panelists:
Moderated by League of Education Voters Interim Co-CEO / Communications Director Arik Korman.
Watch Now

(Captioning is available in English, Spanish, and Somali)
Upcoming LEVinar
---
Lifesaving Skills: Youth Suicide Prevention Through Social-Emotional Learning
September is Suicide Prevention Month, an opportunity to reflect on our collective responsibility to prioritize mental health and well-being and implement proactive strategies to prevent youth suicide. With youth suicide rates increasing and 22% of high schoolers seriously considering suicide within the past year — up from 16% in 2011, given the urgency of this issue, how can Washington state prioritize evidence-based investments in prevention for all young people?
Social-emotional learning is a powerful and cost-effective intervention to equip young individuals with essential skills tied to protective factors that play a pivotal role in reducing the likelihood of developing suicidal thoughts and behaviors. During this timely webinar, we share the impacts of social-emotional learning on youth suicide prevention and discuss possible pathways forward for Washington state to address this ongoing crisis.
Moderated by League of Education Voters Interim Co-CEO / Communications Director Arik Korman.
Special thanks to Committee for Children and the Washington state Legislative Youth Advisory Council (LYAC).
Spanish interpretation and closed captioning in English will be provided.
Thursday, September 28, 2023
12:30 – 1:30 pm
---
Love what we do? Support our work
Want to find out the latest in education news in Washington? Subscribe to our newsletter
Want to learn more about League of Education Voters? Find out here