Lunchtime LEVinars
Welcome to Lunchtime LEVinars, free, interactive, online webinars on important and timely issues hosted by the League of Education Voters (LEV). These lunchtime webinars are designed to share information and build knowledge about the issues at the core of LEV's policy priorities.
LEV will host each 30-minute webinar, which will include a 15–20 minute presentation by an expert from the field and 10 minutes of Q&A. Each webinar will be recorded and archived on our website.
Upcoming LEVinar
---
Making Early Learning More Affordable and Accessible in Washington state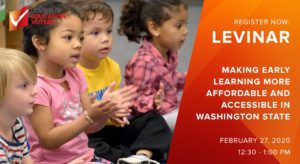 Two pieces of legislation introduced in the Washington state House and Senate would make early childcare and education more affordable and more accessible for Washington state families. The bipartisan Fair Start for Kids Act (House Bill 2661), introduced by Representative Tana Senn (D-Mercer Island), would reduce child care copays, support child care providers, and fund more child care facilities. Senator Claire Wilson (D-Auburn) introduced the Early Care and Education Action (Senate Bill 6253), which would create a comprehensive statewide early care and education system by improving accessibility and affordability of early care and education programs for families.
In our free webinar Thursday, February 27 at 12:30 pm, Representative Senn and Senator Wilson will describe how their legislation would improve early childhood education in Washington state and answer your questions.
Moderated by League of Education Voters Communications Director Arik Korman.
Thursday, February 27, 2020
12:30 – 1:00 pm
---
Love what we do? Support our work
Want to find out the latest in education news in Washington? Subscribe to our newsletter
Want to learn more about League of Education Voters? Find out here