Lunchtime LEVinars
Welcome to Lunchtime LEVinars, free, interactive, online webinars on important and timely issues hosted by the League of Education Voters (LEV). These lunchtime webinars are designed to share information and build knowledge about the issues at the core of LEV's policy priorities.
LEV will host each 30-minute webinar, which will include a 15–20 minute presentation by an expert from the field and 10 minutes of Q&A. Each webinar will be recorded and archived on our website.
Most Recent LEVinar
---
The Current State of K-12 Education Funding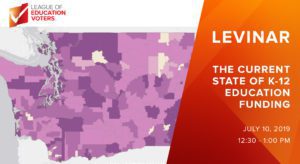 The Washington state legislature has continued work on school funding in the aftermath of the Supreme Court's McCleary ruling, but inequities between school districts remain.
In this webinar, League of Education Voters Director of Policy and Research Julia Warth outlines education funding changes made in the 2019 session, illustrates current funding inequities through interactive maps of Washington's 295 school districts, and answers your questions.
Moderated by LEV Communications Director Arik Korman.
---
Love what we do? Support our work
Want to find out the latest in education news in Washington? Subscribe to our newsletter
Want to learn more about League of Education Voters? Find out here