Lunchtime LEVinars
Welcome to Lunchtime LEVinars, free, interactive, online webinars on important and timely issues hosted by the League of Education Voters (LEV). These lunchtime webinars are designed to share information and build knowledge about the issues at the core of LEV's policy priorities.
LEV will host each 30 to 45-minute webinar, which will include a 20–30 minute presentation by an expert from the field and 10 minutes of Q&A. Each webinar will be recorded and archived on our website.
Most Recent LEVinar
---
Supporting Students Experiencing Homelessness in the Time of COVID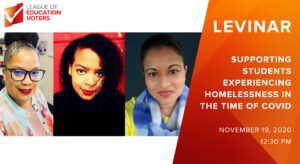 COVID-19 has impacted students and families across Washington state and throughout the world. And for students experiencing housing instability, the challenges of remote learning can feel insurmountable.
In this free webinar, join us for a conversation with Dr. Avanti Bergquist of the Renton School Board, Principal Jolene Grimes Edwards of Neah Bay High School, and social justice advocate ChrisTiana ObeySumner to discuss how systems can best serve students experiencing homelessness, especially students of color.
This LEVinar is co-hosted with our partner Building Changes, an organization focused on supporting students experiencing homelessness. Building Changes works across and within the education, health, and housing systems to address the needs of students and families impacted by Washington state's housing crises. Through research, programming, and advocacy, Building Changes promotes equitable responses to support students and families experiencing homelessness across the state.
Together, we have a dialogue about the intersection of health, education, and racial equity when serving students furthest from educational justice.
Moderated by League of Education Voters Communications Director Arik Korman.
Watch for the recording coming soon
---
Upcoming LEVinar
On December 10 at 12:30 pm, we have assembled a statewide panel of Latino thought leaders, community leaders, and educators to share their perspectives on current events and what works to effectively educate Latino students. Our panelists include Estella Ortega, Executive Director of El Centro de la Raza; Maria Esther Zamora, English Language Development teacher at Spokane Virtual Academy; Robert Elizondo, Superintendent of the Touchet School District; Suzy Diaz, Director of Collective Impact at Heritage University and convener of Yakima Valley Partners for Education; and additional guests to be announced soon. This webinar will be presented in Spanish with English interpretation available. Register now
---
Love what we do? Support our work
Want to find out the latest in education news in Washington? Subscribe to our newsletter
Want to learn more about League of Education Voters? Find out here