Lunchtime LEVinars
Welcome to Lunchtime LEVinars, free, interactive, online webinars on important and timely issues hosted by the League of Education Voters (LEV). These lunchtime webinars are designed to share information and build knowledge about the issues at the core of LEV's policy priorities.
LEV will host each 30 to 60-minute webinar, which will include a 20–30 minute presentation by an expert from the field and 10 minutes of Q&A. Each webinar will be recorded and archived on our website.
Most Recent LEVinar
---
Youth Substance Use Prevention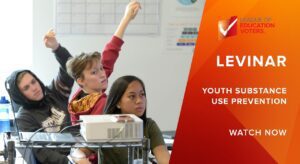 The number of Washington youths age 17 and younger who have died from an opioid overdose has tripled since 2019. A vast majority of deaths are tied to synthetic opioids, such as fentanyl. Treating youths for substance use disorders has traditionally involved various types of psychosocial interventions, like counseling, 12-step programs, and stays at residential rehabilitation facilities. But teen addiction to fentanyl is a relatively new phenomenon. How to get youth treatment is becoming an ever more urgent problem.
In this webinar, we explore how widespread youth substance use is today and share strategies for prevention.
Panelists:
Moderated by League of Education Voters Interim Co-CEO / Communications Director Arik Korman.
Watch Now

(Captioning is available in English, Spanish, and Somali)
Upcoming LEVinar
---
Washington state Teachers of the Year on What Students Need Now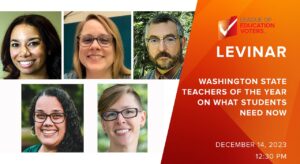 Although many policymakers at the state and federal levels seem to believe the COVID pandemic is behind us, students, families, and educators are saying that this school year is challenging.
In our free webinar on Thursday, December 14 at 12:30 pm, Washington state Teachers of the Year will share what they are hearing from students, parents, and colleagues in their community about how the current school year is going and what students need now, especially as we enter the 2024 legislative session. Students from the Washington state Legislative Youth Advisory Council (LYAC) and Washington Youth Alliance (WYA) will offer their feedback.
Confirmed panelists:
Blaire Penry (2024)
Jerad Koepp (2022)
Brooke Brown (2021)
Mandy Manning (2018, and the 2018 National Teacher of the Year)
Spanish interpretation and closed captioning in available in English will be provided
Moderated by League of Education Voters Interim Co-CEO / Communications Director Arik Korman.
Thursday, December 14
12:30 – 1:30 pm
---
Love what we do? Support our work
Want to find out the latest in education news in Washington? Subscribe to our newsletter
Want to learn more about League of Education Voters? Find out here