Lunchtime LEVinars
Welcome to Lunchtime LEVinars, free, interactive, online webinars on important and timely issues hosted by the League of Education Voters (LEV). These lunchtime webinars are designed to share information and build knowledge about the issues at the core of LEV's policy priorities.
LEV will host each 30-minute webinar, which will include a 15–20 minute presentation by an expert from the field and 10 minutes of Q&A. Each webinar will be recorded and archived on our website.
Upcoming LEVinar
---
New Graduation Pathways for the Class of 2020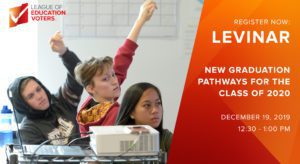 The Washington State Board of Education has revised rules concerning high school graduation requirements that take effect with the Class of 2020. The new rules have been revised in response to House Bill 1599 (passed in the 2019 legislative session) which eliminated the Certificate of Academic Achievement high school diploma that students previously earned by passing the Smarter Balanced Assessment (SBA) or completing an alternative demonstration of college and career readiness. The legislation replaced this requirement with eight pathways students may choose to graduate.
In our free webinar Thursday, December 19th at 12:30 pm, Steve Smith, Executive Director of the Black Education Strategy Roundtable, will provide an overview of the new high school graduation rules and answer your questions.
Moderated by League of Education Voters Communications Director Arik Korman.
Thursday, December 19, 2019
12:30 – 1:00 pm
---
Love what we do? Support our work
Want to find out the latest in education news in Washington? Subscribe to our newsletter
Want to learn more about League of Education Voters? Find out here