Lunchtime LEVinars
Welcome to Lunchtime LEVinars, free, interactive, online webinars on important and timely issues hosted by the League of Education Voters (LEV). These lunchtime webinars are designed to share information and build knowledge about the issues at the core of LEV's policy priorities.
LEV will host each 30-minute webinar, which will include a 15–20 minute presentation by an expert from the field and 10 minutes of Q&A. Each webinar will be recorded and archived on our website.
Upcoming LEVinar
---
How to Implement Mental Health Supports in Schools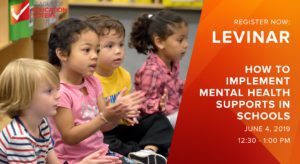 In order to learn, students need to feel like school is a place where they are supported. A key component is providing reliable and consistent access to mental health services for students through either staff or third-party providers in every school building.
In our free webinar, team members from the University of Washington's School Mental Health Assessment, Research, & Training (SMART) Center will describe how to encourage and enable school districts to create positive, supportive school climates by implementing a multi-tiered system of support (MTSS) framework to identify and meet student needs. They will also answer your questions.
Moderated by LEV Communications Director Arik Korman.
Tuesday, June 4, 2019
12:30 – 1:00 pm
---
Love what we do? Support our work
Want to find out the latest in education news in Washington? Subscribe to our newsletter
Want to learn more about League of Education Voters? Find out here