Lunchtime LEVinars
Welcome to Lunchtime LEVinars, free, interactive, online webinars on important and timely issues hosted by the League of Education Voters (LEV). These lunchtime webinars are designed to share information and build knowledge about the issues at the core of LEV's policy priorities.
LEV will host each 30-minute webinar, which will include a 15–20 minute presentation by an expert from the field and 10 minutes of Q&A. Each webinar will be recorded and archived on our website.
Upcoming LEVinar
---
The Latest Washington Supreme Court McCleary Ruling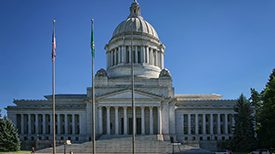 Last month, the Washington Supreme Court issued its latest order in the McCleary public education funding case, addressing whether the State has finally met its responsibility to fully fund basic education. In a unanimous opinion, the Supreme Court ruled that the State's plan to fully fund basic education will provide enough resources to meet its constitutional responsibility, but the Court also ruled that the legislature's timeline for achieving full funding takes too long.
In our free webinar on December 19 at 12:30 p.m., former Washington Attorney General Rob McKenna, now co-chair of the Orrick law firm's Public Policy Group, will provide more information about the latest McCleary ruling and answer your questions. Moderated by League of Education Voters Communications Director Arik Korman.
---