South Shore School is a public PreK to 8th grade school in southeast Seattle.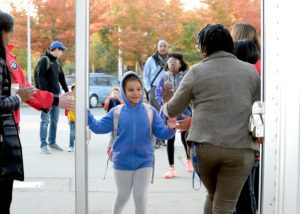 The LEV partnership with the Opportunities for Education (OFE) Foundation has prioritized the well-being of students at South Shore PreK-8, a Rainier Valley Seattle Public Schools Choice School, over the past 12 years. Innovative practices implemented at South Shore have given LEV a practical model for transforming our education system at both the district and the state level.
In 2002, the partnership between OFE and Seattle Public Schools began with a pilot PreK program. This evolved to providing South Shore with a grant to support students academically as well as socially.
Read more: Setting a good example at The New School (Seattle Times, July 5, 2005)
South Shore is one of the most diverse schools in both Seattle Public Schools and Washington state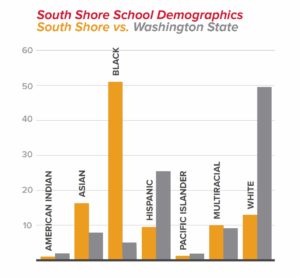 50.5% of the students are Black/African American, 16% Asian, 12.5% White, 10% Two or more races, 9% Hispanic/Latino, .9% American Indian/Alaskan Native, and .7% Native Hawaiian/Other Pacific Islander. One-fifth of the students are English Language Learners and 16% of the students qualify for Special Education services.
PreK
In the area of high-quality Early Childhood Education, LEV has supported the PreK program at South Shore since 2011, and the South Shore pilot influenced a successful initiative to bring PreK to all Seattle district schools beginning in 2014. The program continues to have strong outcomes. In 2018-19, 87% of South Shore kindergarten students entered school kindergarten-ready, compared to just 82% of students meeting that measure across the district. Considering that 90% of South Shore kindergarten students attended preschool at South Shore, the PreK program is credited for kindergarten readiness.
Mental Health Support
Aligned with LEV's advocacy for supportive, safe schools and trauma-informed practice, LEV partially funds a Wellness Team that provides students with reliable and consistent access to mental health services. A full-time clinical specialist from Seneca Family of Agencies is available on-site to children experiencing trauma in their lives in the forms of community violence, housing instability, and family trauma. The partnership also allows for a behavior interventionist to work with students on strategies for expressing themselves in a safe way. The team also helps teachers effectively support students with behavioral issues and, as a result, the out-of-school discipline rate has dropped dramatically as more teachers feel equipped to keep students in class. This has also impacted the use of isolation and restraint. South Shore has all but eliminated the practice and will only use restraint if the student or someone else is in imminent danger.
Multi-Tiered System of Supports (MTSS)
The Opportunities for Education Foundation Grant supports the MTSS program by providing funding for members of the MTSS team. The MTSS team meets regularly to discuss student needs and to determine the support required to allow for student success. The Multi-Tiered System of Supports program provides students with support in:
Academics: When it is determined that students are struggling, the team uses flexible scheduling to meet in small groups with students to provide additional academic support.
Attendance: The MTSS team looks closely at student attendance and uses existing relationships with families to determine the root cause of absences. Based on family need, the school provides support, scheduling changes, as well as mental health counseling where needed.
Identification of Students Who Need Additional Supports: The MTSS program allowed staff to identify students who need additional supports early on. This allowed them to develop an individualized program that meets student needs.
Financial Support and Food Distribution: If it is determined that families are struggling financially, the school can offer some financial support. The school has also developed a vibrant food distribution for families with food insecurity. See what South Shore did during the pandemic. South Shore also partners with many community organizations that can provide financial support to families in need.
Learn more: Podcast – Rachel Madding on Multi-Tiered System of Supports
Social-Emotional Learning (SEL)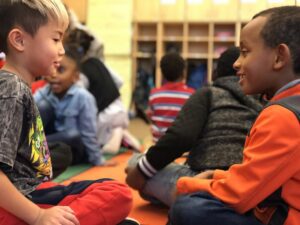 South Shore adopted the practice of teaching SEL (Social-Emotional Learning) to its students early on as well as developing a school culture rooted in social-emotional learning. In the beginning, the grant funds allowed for trained counselors to provide SEL instruction to students in small groups as well as in the classroom. After students returned to school following the pandemic, counselors trained teachers to provide an integrated SEL curriculum to students in the classroom.
Physical Well-Being
Because the OFE/LEV grant's focus is the overall well-being of students, the partnership helps support a school nurse in the school. This became vitally important during the pandemic where the school nurse provided testing to students and staff showing signs and symptoms. The school nurse also partnered with community organizations to provide an in-house vaccination clinic for students, staff, and community members.
Literacy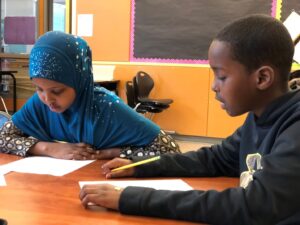 The role of the literacy coach is to work with teachers, instructional assistants, and students to increase competency in English Language Arts. In the Spring of 2018, the school implemented the SIPPS (Systematic Instruction in Phoneme Awareness, Phonics, and Sight Words) program for its K-5 students and beginning Fall 2019, fully implemented it throughout the school. The goal of the SIPPS program is to target the specific needs of each student and work to increase fluency through phonemic instruction, spelling, and sight word recognition. Students break apart into groups based on skill level and work with trained instructional assistants to increase their skills. Students are periodically tested and instruction is modified to their new level. The Literacy Coach closely monitors students to ensure they are progressing through the program.
Professional Development
The school has focused on improving school culture through professional development, partnering with TNTP (formerly The New Teacher Project) in order to develop a system of non-evaluative observation and feedback. Teachers are given the opportunity to opt into the program and partner with an instructional coach throughout the year. Teachers who opted in saw an increase in student engagement and learning outcomes. By shifting the culture of observation and feedback to support rather than evaluation, the team hopes to create a culture of continuous improvement.
Childcare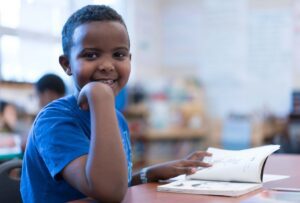 With funds from the OFE grant, South Shore has been able to offer scholarships to families for after-school care provided by Kids Co. The on-site childcare program gives students the opportunity to do homework in a supported environment and takes pressure off older siblings needing to care for their young brothers or sisters.
Gardening Education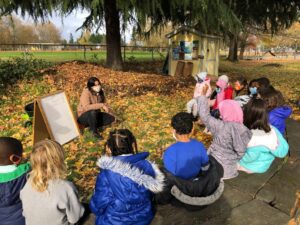 South Shore hosts a community garden on the school grounds. Through grant funds, they partner with Clean Green Farms and Market to provide gardening instruction to its students.  Students also learn about the environment and nutrition. Read about the benefits of gardening in schools.
The South Shore staff and administration feel strongly that students belong in the classroom, supported by adults who understand their needs. Because of this, they opted to participate in the Seattle School District's Extended Resource Pilot for the 2022-2023 school year with the intent to implement an inclusion model that "upholds students and family's dignity and rights to a high-quality education."
The staff and administration are passionate about the work they are doing. During the 2023 Washington state legislative session, both Principal Justin Hendrickson and Special Education Teacher Kayla Korves-Bishop chose to testify about their work to the Washington state Legislature in support of House Bill 1479 so that all students in Washington state could feel safer in their schools.
Love what we do? Support our work
Want to find out the latest in education news in Washington? Subscribe to our newsletter
Want to learn more about League of Education Voters? Find out here