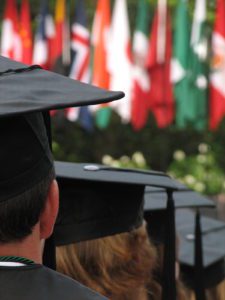 Higher education is a necessity for Washington's students seeking family-wage jobs.
Whether a student wants to work in healthcare, manufacturing, aerospace, or in another industry, a degree or credential beyond high school is a must. The research is clear—two-thirds of Washington jobs in just five years will require some sort of post-secondary degree.
But with significantly declining state support, a growing achievement gap, and a third of high school graduates needing remediation before they can enter higher education, many Washington students are left behind.
At the League of Education Voters, we are committed to keeping higher education affordable and accessible for all Washington high school students. We are working to protect student aid and expand access to quality post-secondary opportunities, including supporting the Dream Act, expanding options for students to earn college credits in high school, building support for the College Bound Scholarship program, increasing coordination between K–12 and two-year colleges, and expanding access at two-year campuses to the applied baccalaureate and university center opportunities.
Resources