Responding to COVID-19: Resources for Our Community
Recently, the Superintendent of Public Instruction announced that all school districts need to provide some kind of educational experience online as our communities deal with COVID 19, beginning Monday, March 30. As Washington state moves to remote learning statewide, we must ensure that all students are able to access their education and basic needs in this time of change. Given the timeline districts are operating under and the unique circumstances, districts will be learning and adapting with each day as they try to meet the needs of their students. In this critical moment, we must work collaboratively to support students, families, and districts to ensure the needs of students without access to technology, students with disabilities, students who are learning English, students living in poverty, and students in early learning programs are well-supported during this time of transition. This page is a working resource for parents, families, teachers, students, and other community members as we respond to the impacts of COVID-19 on education, equity, health, and wellness of children and families.
>>NEW!
---
Where in Washington do you live?
Click on your region to find resources specific to your community, such as meal services and internet & technology supports. See below for general and statewide guidance. Information will be regularly updated.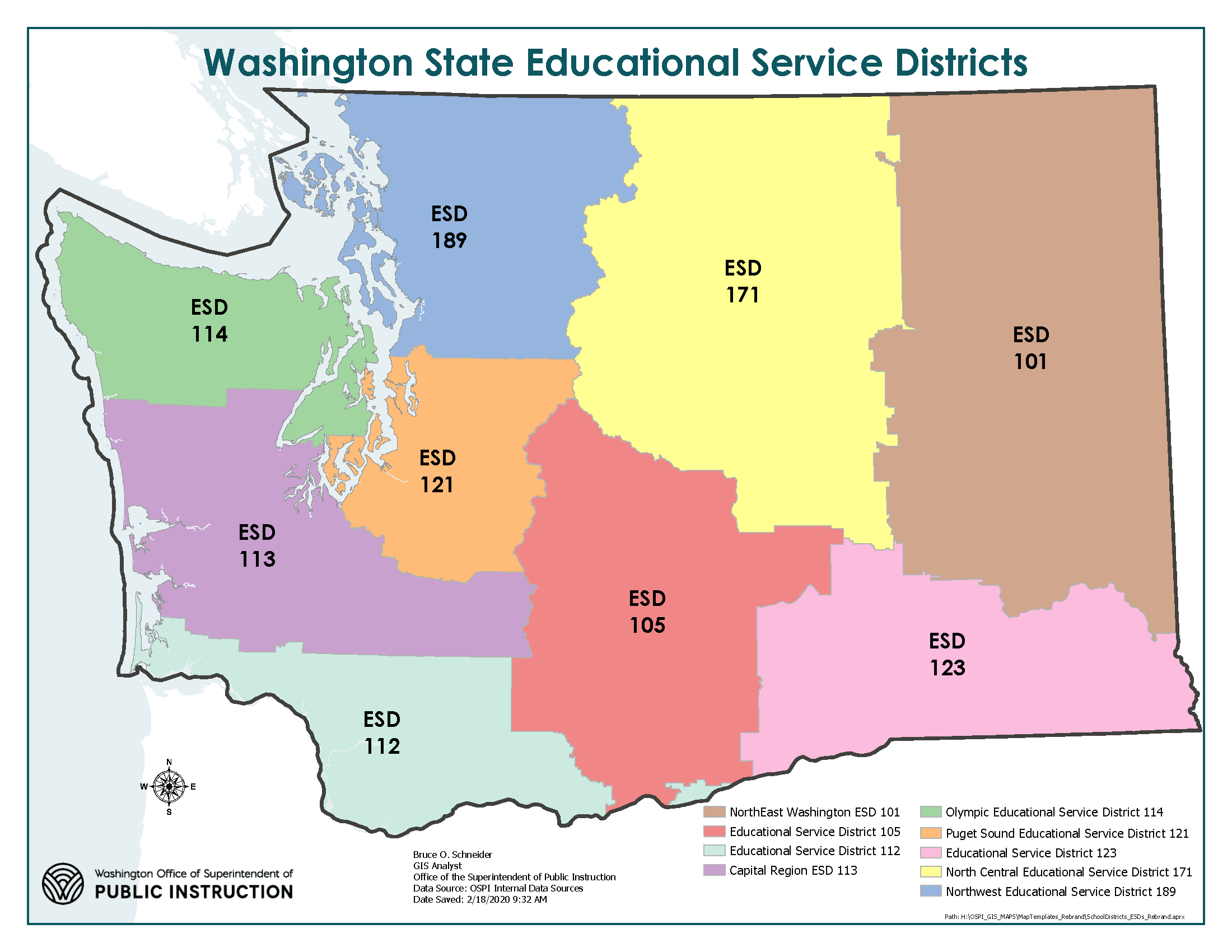 Greater Seattle & Puget Sound Area
GENERAL GUIDANCE
DISTANCE LEARNING RESOURCES
OSPI has put together a huge list of distance learning materials for parents and teachers caring for students in early learning through Grade 12 in a variety of subjects and with a variety of learning needs. You can access it here: IPP-Distance-Learning-Resources-SWDs
UNESCO Parent Resources for distance learning: There are many of you who will be able to adjust your schedules and work from home. And maybe you don't want your children to fall too far behind. Recently, the United Nations Educational, Scientific, and Cultural Organization (UNESCO) has provided information for you, outlining where you can get help with distance learning.
Companies across the country are offering free subscriptions to certain online learning platforms, which are compiled in this Google document.
Science Tots is offering free online programs for children ages 3-8.
The Vashon Island School District has created a page of online resources to help keep Vashon students and any others active and learning until school returns.
The College Board has provided some guidance about AP testing and instruction.
Scholastic has published 20 days' worth of activities, projects, and guided learning for kids at home due to the coronavirus.
You can find an example of a weekly assignment plan and materials from an elementary school teacher in Green Lake here: March 16th to the 20th;  multiplication fact cards,  Folktale Writing,  Folktale Writing2
Facing History and Ourselves has a variety of online lessons, teaching ideas, projects, unit plans, and other resources to help teachers and parents. View their guide about online teaching here: Facing History Online Teaching Guide.
Impact Public schools has made six weeks worth of At-Home Learning Packets available for children in Kindergarten, 1st Grade, and 2nd Grade.
Zearn Math is a free resource to keep children of all grade levels actively practicing and learning math, and you can access lesson plans created by their curriculum team by making an account.
Illustrative Mathematics also publishes free tasks and resources for students of all grade levels that are well aligned to content and practice standards.
Khan Academy in another strong math resource for parents and educators to use during this time, and it's offering free account sign-ups during school closures.
Common Lit is another great resource for English Language Arts lesson materials, but it also has printable texts for social studies and science. You can create a free account and access their library as a parent, student, or educator.
The Vashon Island School District put together this resource website for parents and families. It covers a variety of distance learning materials any parent can utilize, in addition to some social-emotional and community wellness resources.
PBS LearningMedia has free, pre-K through 12, standards-aligned lessons available for parents, educators, and others looking to keep children learning. It also has tips about distance learning and a Spanish language collection.
FREE FOOD ACCESS
INTERNET & TECHNOLOGY SUPPORT
EMPLOYMENT & FINANCIAL SECURITY
SUPPORT GROUPS & MENTAL HEALTH
CHILD CARE
Please know League of Education Voters is here for you. Let us know if you have programs or ideas, leads, or innovative approaches, and we will share them with other parents. Come to us if you have ideas for how we can help or for what is or is not working. If you have resources to share with others, please contact us.
Love what we do? Support our work
Want to find out the latest in education news in Washington? Subscribe to our newsletter
Want to learn more about League of Education Voters? Find out here