League of Education Voters is proud to support Students
Students gain valuable experience by fulfilling roles in Policy and Government Relations, Communications, and Development. League of Education Voters offers internships and student employment.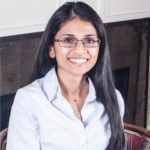 Amelia Vasudevan
Master of Business Administration, University of Washington
Amelia is completing the Evening MBA Program at the University of Washington. She has a background in law and worked as Policy Advisor for the Federal and State Governments in Australia. She has experience designing and implementing legislative reforms to improve access to justice, developing robust budgets and public reporting against KPIs. She has worked on projects to identify good practice in social sectors such as healthcare and disability services. She holds a B Arts and B Laws from Australia.
Zeenat Yahya
Masters of Education Policy Program, University of Washington
Zeenat is currently finishing up her Master's in Education Policy at the University of Washington. Her previous experiences involve working with the CA State Superintendent and his staff to learn more about the role of education policy in California, providing college readiness support to high school students through the AVID program, and doing civic education work for IGNITE,  national, non-partisan organization that is working to empower more young women to run for office and increase civic engagement among high school and college students. Zeenat has a degree in Political Science-Public Service from the University of California, Davis.
LEV Student Alumni
---
Simeng Zhu, November 2017 – June 2018
Education, Communities, and Organizations, University of Washington
Emma Elise Hodges, November 2017 – May 2018
Education, Communities, and Organizations, University of Washington
Tiahnna Kau, August – September 2017
Marketing and International Business, Seattle University
MyKaila Young, October 2016 – January 2017
Communications, University of Washington
Merrill Poepping, June – September 2016
Communications, Western Washington University