Welcome to Lunchtime LEVinars, free, interactive, online webinars on important and timely issues hosted by the League of Education Voters (LEV). These lunchtime webinars are designed to share information and build knowledge about the issues at the core of LEV's policy priorities.
LEV will host each 30-minute webinar, which will include a 15–20 minute presentation by an expert from the field and 10 minutes of Q&A. Each webinar will be recorded and archived on our website.
Upcoming LEVinar
---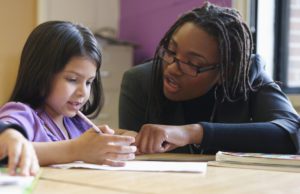 Currently, 44 percent of students in Washington public schools are students of color, but only 8 percent of teachers in Washington are teachers of color.
Dr. Min Sun, Assistant Professor in the University of Washington College of Education, will share her recent study on Black teachers' retention and transfer patterns in North Carolina, and how these patterns vary by teacher effectiveness, subjects and school conditions. She will also discuss policy strategies for retaining and supporting effective Black teachers. UW College of Ed Associate Dean for Research Deborah McCutchen will also provide perspective on how research can inform advocacy.
Moderated by LEV State Field Director Kelly Munn.
Thursday, May 25
12:30 – 1:00 pm
---
Sponsors
A special thanks to our Lunchtime LEVinar sponsor, The Boeing Company.


---