Lunchtime LEVinars
Welcome to Lunchtime LEVinars, free, interactive, online webinars on important and timely issues hosted by the League of Education Voters (LEV). These lunchtime webinars are designed to share information and build knowledge about the issues at the core of LEV's policy priorities.
LEV will host each 30-minute webinar, which will include a 15–20 minute presentation by an expert from the field and 10 minutes of Q&A. Each webinar will be recorded and archived on our website.
Most Recent LEVinar
---
The 2018 Legislative Session and 2017 in Review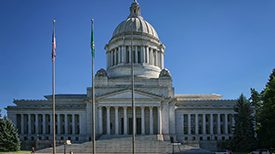 2017 was a monumental year, as legislators invested $7.3 billion into our education system, but plenty of work remains.
League of Education Voters Assistant Director of Policy and Government Relations Julia Warth gives an overview of 2017's accomplishments, outlines the possibilities in 2018 around K-12 funding, early childhood education, expanded learning opportunities, student supports, career connected learning, postsecondary supports, and answers your questions.
Moderated by League of Education Voters State Field Director Kelly Munn.
---