Welcome to Lunchtime LEVinars, free, interactive, online webinars on important and timely issues hosted by the League of Education Voters (LEV). These lunchtime webinars are designed to share information and build knowledge about the issues at the core of LEV's policy priorities.
LEV will host each 30-minute webinar, which will include a 15–20 minute presentation by an expert from the field and 10 minutes of Q&A. Each webinar will be recorded and archived on our website.
Upcoming LEVinar
---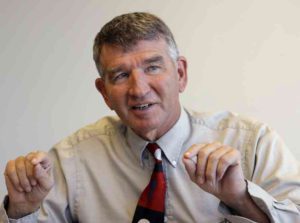 One of the most important races in next month's election is for the next state Superintendent of Public Instruction. But what does the Office of the Superintendent of Public Instruction (OSPI) actually do?
Randy Dorn, our current state superintendent, and Gil Mendoza, deputy superintendent, will answer your questions about OSPI's role and work, which levers OSPI has to make changes in education policy, and what the community should expect from OSPI.
Moderated by LEV's Communications Director, Arik Korman.
Thursday, October 27
12:30 – 1:00 pm
Register HERE
---
Sponsors
A special thanks to our Lunchtime LEVinar sponsor, The Boeing Company.


---