Lunchtime LEVinars
Welcome to Lunchtime LEVinars, free, interactive, online webinars on important and timely issues hosted by the League of Education Voters (LEV). These lunchtime webinars are designed to share information and build knowledge about the issues at the core of LEV's policy priorities.
LEV will host each 30-minute webinar, which will include a 15–20 minute presentation by an expert from the field and 10 minutes of Q&A. Each webinar will be recorded and archived on our website.
Upcoming LEVinar
---
Next Steps in School Discipline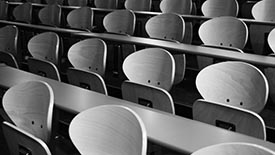 During the 2016 legislative session, House Bill 1541 was passed and signed into law. This bill is based on several recommendations of the Educational Opportunity Gap Oversight and Accountability Committee (EOGOAC) that are intended to close the educational opportunity gap in WA. Sections of this bill set limits on the use of long-term suspension or expulsion and require districts to provide educational services during any suspension or expulsion.
Joshua Lynch and Calandra Sechrist from the Office of the Superintendent of Public Instruction (OSPI) will share updates regarding student discipline and implementation of HB 1541. Moderated by League of Education Voters State Field Director Kelly Munn.
Thursday, September 28
12:30 – 1:00 pm
---