Welcome to Lunchtime LEVinars, free, interactive, online webinars on important and timely issues hosted by the League of Education Voters (LEV). These lunchtime webinars are designed to share information and build knowledge about the issues at the core of LEV's policy priorities.
LEV will host each 30-minute webinar, which will include a 15–20 minute presentation by an expert from the field and 10 minutes of Q&A. Each webinar will be recorded and archived on our website.
Upcoming LEVinar
---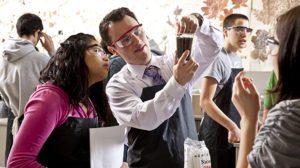 Many young people in Washington, especially youth of color and from low income or rural communities, do not have access to the career connected learning experiences that foster engagement in school and interest and preparation for high-demand STEM careers.
Washington STEM Chief Policy and Strategy Officer Caroline King and Senior Program Officer Gilda Wheeler will teach us how career connected learning can benefit students, how CTE and career connected learning are connected, and how to support CTE and career connected learning through policy and program work.
Moderated by LEV State Field Director Kelly Munn.
Tuesday, January 24, 2017
12:30 – 1:00 pm
Register HERE
---
Sponsors
A special thanks to our Lunchtime LEVinar sponsor, The Boeing Company.


---