Lunchtime LEVinars
Welcome to Lunchtime LEVinars, free, interactive, online webinars on important and timely issues hosted by the League of Education Voters (LEV). These lunchtime webinars are designed to share information and build knowledge about the issues at the core of LEV's policy priorities.
LEV will host each 30 to 45-minute webinar, which will include a 20–30 minute presentation by an expert from the field and 10 minutes of Q&A. Each webinar will be recorded and archived on our website.
Upcoming LEVinar
---
Our Rising Voices: Supporting Emergent Multilingual Students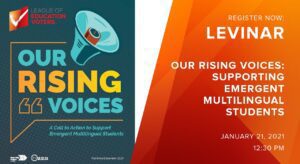 In collaboration with the Road Map Project, League of Education Voters partner OneAmerica has published a new report, Our Rising Voices: A Call to Action to Support Emergent Multilingual Students.
For too long, our education systems have treated English language learners as a problem to be managed and minimized. This report instead highlights the systemic barriers that emergent multilingual students face and the actions we can all take to support them. It pinpoints five specific yet sweeping recommendations for building systemic changes and uplifting community voices.
In this free webinar Thursday, January 21 at 12:30 pm, a team from OneAmerica will share takeaways from the report and answer your questions.
Moderated by League of Education Voters Communications Director Arik Korman.
Thursday, January 21, 2021
12:30 – 1:15 pm
---
Love what we do? Support our work
Want to find out the latest in education news in Washington? Subscribe to our newsletter
Want to learn more about League of Education Voters? Find out here