Lunchtime LEVinars
Welcome to Lunchtime LEVinars, free, interactive, online webinars on important and timely issues hosted by the League of Education Voters (LEV). These lunchtime webinars are designed to share information and build knowledge about the issues at the core of LEV's policy priorities.
LEV will host each 30-minute webinar, which will include a 15–20 minute presentation by an expert from the field and 10 minutes of Q&A. Each webinar will be recorded and archived on our website.
Most Recent LEVinar
---
Why Students Need to Go Outdoors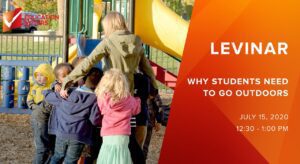 Overwhelming research shows health and emotional benefits to recess, exercise, and free outdoor play.
In this webinar, Dr. Pooja Tandon of Seattle Children's and the University of Washington, Bookie Gates, Servant Leader, Baseball Beyond Borders/Gates Ventures Group, Seattle Public Schools parent Linnea Westerlind, author of Discovering Seattle Parks: A Local's Guide, and KUOW Education Reporter Ann Dornfeld discuss the mental health benefits of recess and PE programs in schools, outline what we need now to support school districts in Washington state to incorporate exercise programs into curriculum during this period of distance or hybrid learning, and answer your questions.
Moderated by League of Education Voters Communications Director Arik Korman.
---
Upcoming LEVinars
On July 29 at 12:30 pm, TED speaker and Brownicity.com creator Dr. Lucretia Berry, author of What LIES Between Us: Fostering First Steps Towards Racial Healing, will talk about how parents and teachers can talk to their children and students about race and race-related trauma. She will also answer your questions. Register now.
On August 5 at 12:30 pm, Washington state Teachers of the Year Amy Campbell (2020), Robert Hand (2019), Mandy Manning (2018, and the 2018 National Teacher of the Year), Camille Jones (2017), and Nate Bowling (2016) will share what they are hearing from students, parents, and colleagues in their community, will share what students need to begin the 2020-21 school year, and will answer your questions. Register now.
---
Love what we do? Support our work
Want to find out the latest in education news in Washington? Subscribe to our newsletter
Want to learn more about League of Education Voters? Find out here