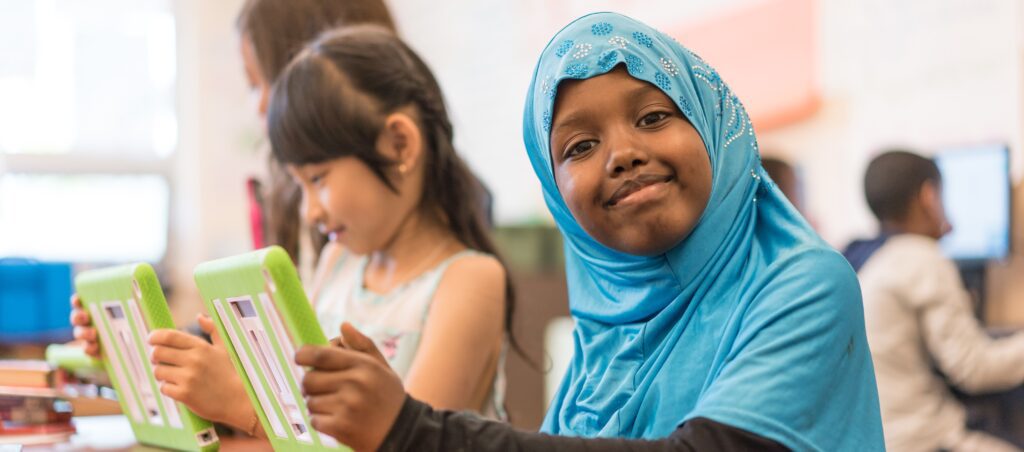 This year has been unlike any other for the families and students of Washington state. New challenges and opportunities as a result of months of the COVID-19 pandemic and greater racial reckoning have laid bare the inequities in our society.
We see in even starker relief the need to build equitable educational systems in which students come first – systems that are designed to serve every student based on their strengths, support their needs, and provide the resources they need to be successful. The needs and solutions reflected here have long been identified by students, parents, educators, community-based organizations, and school administrators – and the current crises only reinforce just how critical these priorities continue to be for Washington families.
We must change the very foundation of our education systems and build the infrastructure to implement student-centered, equitable solutions.
We must focus on community-driven solutions to support students and families who have been historically and systemically underserved – including students of color, students in poverty, students qualifying for special education services, students learning English, students experiencing homelessness, and students impacted by trauma. We must ensure that in this moment of crisis and opportunity, we create meaningful and lasting change.
Together we can build better systems for the future of Washington students and families.
The following priorities will help move us towards a more equitable and just education system:
HIGH-QUALITY EARLY CHILDHOOD EDUCATION FOR EVERY EARLY LEARNER
Preserve and expand access to high-quality, affordable, culturally and linguistically relevant early learning that meets family needs and supports a well-compensated, highly-trained workforce.
SUPPORTIVE, SAFE, AND ACCESSIBLE LEARNING ENVIRONMENTS FOR EVERY STUDENT IN K-12 SCHOOLS
Encourage and enable districts to create positive, supportive school climates by implementing a multi-tiered system of support (MTSS) framework to help schools identify and meet students' academic and social-emotional strengths and needs with targeted and school-wide supports.
Support educators, districts, and schools in adopting and implementing Universal Design for Learning and other inclusive practices to make learning accessible to all.
Provide reliable and consistent access to mental health services for students, through either staff or third party providers in every school setting.
Ensure the Learning Assistance Program (LAP), which helps support students struggling academically, effectively meets student need by increasing flexibility in use of funds and partnership with community-based organizations.
Transition from punitive measures that disproportionately affect students of color, including the use of School Resource Officers (SROs) in school buildings and suspensions for students in grades K-2, to supportive measures such as positive behavior interventions, restorative practices, and access to support staff and services.
ESTABLISHING EQUITABLE RESOURCING STRUCTURES CENTERED ON STUDENT NEED
Ensure students and families have access to the services they need to be successful during remote and in-person learning and expand access to social services to meet the basic needs of families, such as childcare.
Update the local effort assistance program to account for student and community needs, rather than just property values.
Establish new revenue sources to advance educational equity and provide access to quality education and social services for all Washington students and families.
SUFFICIENT AND EFFECTIVE RESOURCES FOR EVERY STUDENT RECEIVING SPECIAL EDUCATION SERVICES
Support continued work to expand the adoption of inclusive practices to ensure students have the ability to access their education.
Create a funding structure that will equitably support the systems and services needed for students with disabilities to meaningfully access their education, including lifting the 13.5% cap on funded enrollment.
Read more details about our 2021 Legislative Priorities
2021 Legislative Priorities (PDF)
Agenda Legislativa para el año 2021 (PDF)
Watch our LEVinar on the 2021 Legislative Session Recap: What Washington Students Got
Read our 2021 Legislative Session Wrap-Up blog
Read our 2021-2023 Budget Proposal Side-By-Side (PDF)
Watch our LEVinar on What to Expect in the 2021 Legislative Session
Read our 2021 Legislative Priority Issue Brief: Early Childhood Education (PDF)
Read our 2021 Legislative Priority Issue Brief: Supportive and Safe Schools (PDF)
Read our 2021 Legislative Priority Issue Brief: Fair Local K-12 Funding (PDF)
Read our 2021 Legislative Priority Issue Brief: Special Education (PDF)
Read our 2021 Legislative Priority Issue Brief: Special Education Funding (PDF)
Love what we do? Support our work
Want to find out the latest in education news in Washington? Subscribe to our newsletter
Want to learn more about League of Education Voters? Find out here