By League of Education Voters Policy Team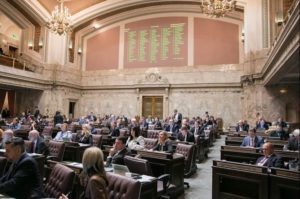 UPDATE: Unfortunately, due to the COVID-19 crisis and growing economic impacts by the time of budget signing, the Governor had to make the difficult decision to veto a number of budget items that were passed by the Legislature.
The Washington state legislature released their budget compromise on March 11 for the 2020 supplemental budget. The 2020 supplemental budget makes adjustments to the 2019-21 biennial budget that will impact the remainder of the biennium, ending in June 2021.
The highlights include increases in both the Working Connections Child Care ($41 million) and ECEAP, the Early Childhood Education and Assistance Program ($9.1 million), to increase access to childcare for families and increase funding rates for providers.
One of the most notable additions to the K-12 education budget is funding for high-poverty elementary schools to hire additional counselors ($31.8 million). This marks the first time in which high-poverty elementary schools will receive funding to staff their schools at higher levels than non-high poverty schools through the base funding formula. Currently, this increased funding will be in effect for the 2020-21 school year, but will need to be renewed in future budgets to continue beyond that.
The legislature made an increase of $1.9 million to the special education Safety Net program. Unfortunately, no other investments or changes in the special education funding formulas made it through the 2020 legislative session.
Other important investments in supporting families include $150,000 for the Office of Education Ombuds (OEO) to increase capacity and develop training in diversity, equity, and inclusion and $133,000 for the Office of the Superintendent of Public Instruction (OSPI) and the Department of Children, Youth, and Families (DCYF) to develop a family engagement framework.
With the passage and subsequent funding of the Workforce Education Investment Act (House Bill 2158) during the last legislative session, which made significant increases to state-funded financial aid, there were no substantive changes made to higher education funding or financial aid.
See how the 2020 supplemental budget agreement compares with the House, Senate, and Governor Inslee's 2020 supplemental budget proposals. Strikethrough text indicates items that were vetoed by Gov. Inslee on April 3, 2020 in response to the COVID-19 crisis.
Early Childhood Education

Early Childhood Education and Assistance Program (ECEAP)

+$9.1 million

+$2.2 million

For a 5% ECEAP rate increase for all providers and a $2.2 million for providers serving children with special needs

Working Connections Child Care (WCCC)

+$41.1 million

+$35.1 million

To increase rates, provide copayment relief, and expand eligibility for families experiencing homelessness and parents currently enrolled in high school

Early Learning System Integration

+$1.3 million

+$1.1 million

Develop efficiencies and long-term strategies to align work of the Office of the Superintendent of Public Instruction (OSPI), the Office of Financial Management (OFM), and the Department of Children, Youth, and Families (DCYF)

K-12

Local Education Levies
Locally generated property taxes that provide additional education funding to be used at district discretion. Not considered state funding

No Changes

Local Effort Assistance (LEA)

+$45.8 million

One-time hold-harmless to offset lower than expected LEA payments for 2020 due to greater than expected property value increases

Small School Grants

+$4 million

One-time funding to provide grants to local education agencies (school districts, charter public schools, and tribal compact schools) under 650 enrolled students for the 2020-21 school year

Special Education Funding

+$1.9 million

Increase in Safety Net funds for school districts to access via an application process

Office of Education Ombuds (OEO)

+$100,000

Increase capacity of OEO to serve more families

Promoting Diversity, Equity, and Inclusion

+$50,000

OEO will develop a plan to promote diversity, equity, and inclusion among families with school-aged children

Family Engagement

+$133,000

OSPI and DCYF will work together to create a family engagement framework from early learning through 12th grade

Dual Language Learning

+$465,000

To provide dual language K-12 grants

Dual Credit Study

+$50,000

For the Washington Student Achievement Council to convene a taskforce to better understand the financial and non-financial barriers to accessing dual credit

Counselors for High-Poverty Schools

+$31.8 million

Increases funding for counselors at high-poverty elementary schools

Student Behavioral Health and Safety Supports

+$2.6 million

Strengthening the new statewide network of behavioral health and safety supports

Paraeducator Training

+$14.3 million

Two additional days of paraeducator training in addition to a four-day fundamental course of study

Institutional Education

+$762,000

For enhanced funding and records coordination at residential schools

Student Transportation

+$62.8 million

+$44.3 million

One-time increase in funding to support student transportation

Higher Education

Job Skills Program

+$2.4 million

For the Washington Job Skills Program to support worker training and retraining activities
UPDATED 2020 Supplemental Budget Proposal Side-By-Side with Governor Signing (PDF)
Read our 2020 Legislative Priorities
Love what we do? Support our work
Want to find out the latest in education news in Washington? Subscribe to our newsletter
Want to learn more about League of Education Voters? Find out here