"Sending my child to school is the only way I can ensure he doesn't have to work as hard as I do; it is the only way out for my family. But I cannot speak English, so how am I going to make sure that he succeeds in school?"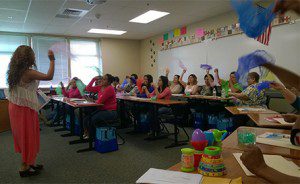 This is one of the many stories that can be heard in Yakima Valley, Washington. Yakima, located in eastern Washington and known for its lively agricultural communities and large production of hops, is also home to a large and vibrant Latino community that makes up approximately 40 percent of the population.
While public education is confusing and complicated for a lot of people, navigating the system turns out to be particularly challenging for Yakima's Latino community, as many parents only speak Spanish and work long hours in the fields trying to provide for their families.
Thus, it came as no surprise that when registration opened at 8:00 a.m. on Saturday, June 21, crowds of eager parents and family members queued up at the entrance of Sunnyside High School to participate in our summit and activist training, Parents Partnering in Education. The League of Education Voters partnered with Inspire Development Centers and the Sunnyside School District to offer the summit.
Parents Partnering in Education was an all-day event that covered topics ranging from the basics of advocacy to how to best support children with special needs. By the end of the day, parents had the opportunity to attend 17 different workshops and presentations.
The children who accompanied their parents were also well taken care of. Childcare was provided in classrooms around the school in the form of an exciting day filled with arts and crafts and other fun activities, and complete with instructional sessions from trained teaching staff.
About halfway through the day's activities, participants were invited to a special presentation by guest speaker Bernardo Ruiz, Seattle Public Schools' School Family Partnerships and Race and Equity Director, and the League of Education Voters' Community Organizer, Micaela Razo. The presentation was a combined effort to empower parents to take "ACCION!"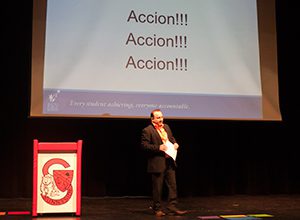 Bernardo told the story of his struggles as a child to achieve academic stability. He attributes his success to the hard work and determination of his mother—who herself had little education—to see him succeed. This was not an easy task but during this time Bernardo says he developed a habit for trading schools and people—from those who told him that he could not to those who told him he could.
Bernardo's message resonated throughout the day. Fighting for equitable access to a good education will not be easy and parents, families, and students will face obstacles. However, by continuing to take action and by surrounding yourself with people who believe in you and who are fighting for the same thing, you can be heard and instigate change.
And starting on June 21, 200+ families found their voice and are ready to be heard.
Raymond Fenton is the League of Education Voters' Field Organizing Intern this summer. He is studying rhetoric and media studies and theater at Lewis & Clark College in Portland, Oregon. He has a passion for social justice and is a vibrant race and ethnicity advocate and student government leader on his college campus.