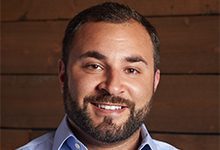 At the League of Education Voters (LEV), we recognize all of the hard work that you do toward improving public education across Washington state. We are pleased to announce our Activist of the Month for November: Adel Sefrioui. Read more about Adel's work developing Excel Public Charter School, which will open in Kent in 2015.
Adel Sefrioui is the son of immigrant parents. His father emigrated from Morocco in the early '70s and his mother from Iran shortly before the 1979 revolution. While his parents came to the United States for different reasons—his father, to pursue the "American dream," and his mother, to escape tyranny in her home country—they both came from cultures that highly value education. Both Persian and Moroccan cultures share the belief that education can be the great equalizer in society.
Unsurprisingly, Adel's parents had high hopes and expectations for Adel and his sister. "College was the absolute minimum for us," Adel says. "I was expected to attend graduate school, as well."
Adel was on track to do just that. But while studying at the University of Washington, Adel learned about Teach for America.
He decided to take a break from his plans to work in politics and foreign policy in order to teach for two years at an inner-city school in Chicago through Teach for America.
What happened next, Adel says, was a "life-changing experience."
Adel taught middle-school English and social studies in a "turnaround school" that was part of Chicago Public Schools' Renaissance 2010 project. What that means is the school was shut down and later reopened with mostly (but not entirely) new administrative and teaching staff. Adel joined in the school's second year of "turnaround."
Because his school was an open enrollment school, Adel says the staff had to do a lot work themselves to recruit students, and he found himself going out into the community to meet families and students. It quickly became evident to him that the reopened school was not popular—the community was angry that the previous school had been shut down.
Nevertheless, Adel and the rest of the staff continued to work with the community, and Adel taught at the school for three years. During that time, it became the highest performing public middle school in the area, doing better than the magnet school down the road.
Adel observed firsthand how an engaging teacher could captivate any student. Even though 99 percent of the student body was in the free-and-reduced-lunch program, the students were excelling—and they were excited about their classes.
As Adel began his third year of teaching, the budget cuts came. And as the most junior teacher at the school, Adel was the first to receive a pink slip, despite the fact that his students' English levels had improved by 1.6 years in just one school year.
Although Chicago Public Schools ultimately kept Adel on, this experience changed Adel's goals. From that point on, Adel wanted to be a school leader.
"I believe in charter schools," Adel says. "Not as the sole solution or as a silver bullet—but as a piece of the puzzle.I believe that if charters are successful, while also serving students and families that are representative of the school districts they operate within, they will help move public education forward in this state."
After finishing his third year of teaching, Adel returned to Seattle and attended law school. He felt strongly about working with the same population of students, so he started the nonprofit organization Step Ahead to help low-income students navigate the college admissions process. (The pilot cohort of Step Ahead students had a 92 percent college attendance rate last spring.)
Through his work with Step Ahead, Adel met LEV co-founder Lisa Macfarlane and CEO Chris Korsmo and was able to learn more about what the education landscape looks like in Washington state.
This informed his ideas for a public charter school. "I didn't want to reinvent the wheel; nor did I want to focus on the problems. I wanted to look at the possibilities and build from there, so I looked at high-performing public schools around the nation and said, 'What do these schools have in common that we should implement here?'"
What Adel found is that the best schools have similar traits in specific areas, such as: cultural competency, fantastic teachers, high expectations for student academic performance, and strong community partnerships.
So Adel set out to create a public charter school with those same traits. "It was really important to me to help redefine the standard of excellence in our state. A 79 percent high school graduation rate in our state is not 'excellence' to me."
He submitted an application for Excel Public Charter School in November 2013 and was approved. Excel has a STEM focus—specifically, computer science, and will ultimately serve grades 6–12. The school will open in the 2015-16 school year for grades 6–7 and scale up with an additional grade each year.
The goal of Excel, though, is about more than a brick-and-mortar building or an excellent 6–12 school, says Adel.
The end goal is not just to support the 525 kids that Excel will serve once it's a 6–12 school. It's not about opening 10 schools that serve 5000 students, either. It's really about creating something successful that can be shared with other schools. We have to consider whether we're doing something that's sustainable and replicable. If it's not, we're only serving a tiny fraction of the kids we could have reached, and we're also easily marginalized by those who are against us.

When you look at Excel through and through, it's a sustainable model, and it's a replicable model. It's about all kids in our state. It's not just about the few who are in our building.
It may not be the path Adel originally set out on, but he says, "This is the best work I could possibly hope for. I look forward to waking up every day."