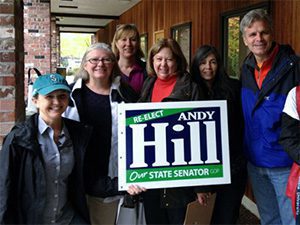 At the League of Education Voters (LEV), we recognize all of the hard work that you do toward improving public education across Washington state. We are pleased to announce our Activist of the Month for December: Beth Sigall. Read more about Beth's work this fall campaigning for Senator Andy Hill.
You may remember Beth Sigall from April, when she was selected as one of three Activists of the Month in our first-ever "team" award. We honored her in April for her work during the 2014 legislative session, and we're thrilled to honor her again for her work during the 2014 midterm elections.
Up until now, Beth's involvement in political campaigns has been limited to policy advising on education issues or work on local levy and bond campaigns. Because she had worked closely with Senator Hill on education over the course of his term, it seemed like a logical next step to get involved directly, on the ground, in his re-election effort.
When asked why this particular campaign, Beth explained that she did what she knew was right. "I've worked with Senator Hill since he was a freshman senator, and I've always been struck by how representative he was of our community. He's leading us in the direction the state needs to go."
As the midterm elections were beginning to ramp up, Beth noticed an increase in information about Senator Hill—in particular, an increase in misinformation about the senator—and by people or organizations that have no presence in her district.
Galvanized by these negative, inaccurate ads, Beth decided she wanted to provide accurate and factual information to the people in her district. Her work on Senator Hill's campaign focused on two areas: social media and grassroots organizing.
For social media, she worked with a friend and neighbor in Redmond, Julie Freguia, to create and manage a Facebook page. By combining compelling visual and written communications, Beth and Julie were able to get information about the senator to members of their district. Beth says that they focused on Senator Hill's accomplishments during previous legislative sessions and his endorsements from other individuals and organizations, including the League of Education Voters.
In her grassroots work, Beth spent a lot of time talking to people, helping supporters write letters to the editor, and doorbelling. She says that talking to those you know is the most important thing you can do: "The number-one motivator in local elections is reaching out to your friends and neighbors and asking them personally for their vote."
When asked what she is most proud of regarding her work in this election, Beth says, "We got people engaged who normally stay away from politics." And on all of the effort her work took, Beth says, "What I did pales in comparison to what Senator Hill did. He knocked on 10,000 doors. It's easy to be inspired by Senator Hill because he's always working, always talking to people, and always listening to what they have to say."
Among those Beth energized to doorbell were Senator Steve Litzow, LEV's State Field Director Kelly Munn, and LEV key activists Betsy Cohen, Dawn McCravey, and Janet Suppes. Alison Meryweather and Jody Mull also volunteered on social media.
Kelly emphasized the importance of Beth's work during the campaign, saying, "Legislators are influenced by the people they talk to, but many of the people they talk to are not representative of their communities. Beth understands how the Legislature works and the importance of community engagement; she's extraordinary at her work. Starting with doorbelling, Beth listened to many people, gained varied perspectives, and built a team that can now advocate during the legislative session and better represent the 45th district."
When asked if she would work on future political campaigns for other candidates, Beth says that she would consider it. "To the extent that we as education advocates can get into the political realm and help elect people who will support and further our goals, we have to do it."
In the meantime, Beth is keeping the conversation going online through her Facebook page, Beth Sigall on Education.