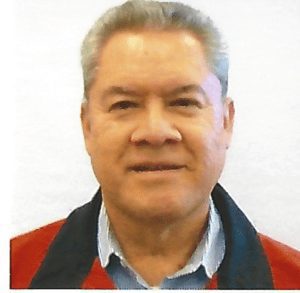 At the League of Education Voters (LEV), we recognize all of the hard work that you do toward improving public education across Washington state. We are pleased to announce our Activist of the Month for September: Felix Vargas.
Retired Colonel Felix Vargas of Pasco, Washington, has taken on the charge of helping the League of Education Voters understand the Every Student Succeeds Act (ESSA) at a local level so that we can ensure that children who need additional support are not denied tutoring services promised by the federal government. Col. Vargas advocates with the Office of the Superintendent of Public Instruction (OSPI), and speaks regularly with Senator Patty Murray's representatives and the local Pasco School District, which has not yet provided in writing the district's plans for tutoring services.
About a year ago, Col. Vargas met LEV Community Organizer Ruvine Jiménez at a Pasco Citizens for Better Schools forum to support a school levy and he now meets with Ruvine at least once a week. He has since invited Ruvine to participate in two meetings with Congressman Dan Newhouse. These sessions have provided an opportunity to explain to the Congressman why it is important to maintain ESSA funding for the Tri-Cities region. Col. Vargas is working on what ESSA means for the community, such as adding resources for early learning programs like a pre-K learning center, and looking at how schools provide information and how they are evaluated.
Thanks to his work, the Tri-Cities community now has access to senior levels of leadership in government and education. Deputy State Superintendent Gil Mendoza has recently spoken on two occasions to the community on ESSA. Col. Vargas participated in an OSPI candidate forum in July and is helping to organize another similar forum this fall.
Col. Vargas also meets with a Latino parents' group monthly to discuss why students are under-performing. He explains, "Beyond the obvious factors of language, culture and socioeconomic standing, we believe that the quality of instruction and teaching credentials have to be assessed and weighed as well. Our parents want a 360-degree review." He listens closely to what the Latino parents say, and then holds quarterly meeting with the Pasco School District's Parents Advisory Committee.
Col. Vargas is not shy about talking to anyone. He held concurrent careers in the U.S. Government as a military and civilian officer. He served as a Foreign Service officer with the U.S. State Department and as a U.S. Army Reserve officer. Col. Vargas served two tours of duty as an Army Ranger and Special Forces officer in Vietnam. After retiring from the U.S. government, he entered the corporate world, serving as manager of sales and marketing for an American helicopter company in Mexico City, where he sold helicopters to the Mexican government and the private sector.
From 2006 – 2010, Col. Vargas returned to Washington, DC, to champion education and training opportunities for the newest generation of U.S. military veterans returning from wars in the Middle East. He received a White House appointment as member, then chairman, of the U.S. Advisory Committee for Veterans Business Affairs during this time. In April 2010, he accepted an assignment to work with U.S. and international agencies assisting Haiti following the catastrophic earthquake in January 2010. Col. Vargas lived in Haiti for a year.
In 2012, he returned to his hometown of Pasco, Washington, where his focus now is on his community in the Tri-Cities. He hit the ground running, forming the Consejo Latino (Latino Council) to serve as a discussion group on issues of interest to a diverse and dynamic Hispanic community, getting involved in community policing and economic development of Latino businesses.
Two years ago, Col. Vargas added advocacy for voters' rights, rights for injured agricultural workers, and education. He started reading and learning about the local education landscape. He recalls, "I was surprised to find out that two of our elementary schools have 98 percent Latino students, and the schools overall are 70 percent Latino in the Pasco district. Times sure have changed." Col. Vargas was the only Latino in his high school graduating class, and the only other Latino(a) in the school at the time was his younger sister.
Education has now become a core issue for Col. Vargas. He recently met with the superintendent of Educational Service District 123 in Pasco to discuss developments and approach in such areas as early learning and bilingual education. He always expects and looks forward to civil and productive conversation. He says, "I will continue to collaborate with community providers and other partners at the State and Federal levels to seek solutions to the many challenges of education for all students. Let's keep up the drumbeat."