At the League of Education Voters (LEV), we recognize all of the hard work that you do toward improving public education across Washington state. We are pleased to announce our Activist of the Month for March: Tony Vo. Read more about Tony's work organizing and advocating for his community.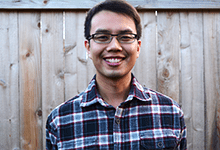 Tony Vo recently graduated from the University of Washington (UW) with a degree in public health and American ethnic studies.
While at the UW, Tony began working with underrepresented minorities as a Student Ambassador, and he noticed that Southeast Asians tended to get lumped into the "model minority" stereotype. Tony says, "I didn't see myself in that stereotype. I grew up in White Center. Vietnamese was my first language. Many of my peers have similar stories—we come from low-income, refugee backgrounds." So Tony started doing advocacy work on behalf of Southeast Asian American communities.
In an editorial for the International Examiner, Tony writes: "High school dropout rates are as high as 40 percent for Hmong, 38 percent for Laotian, and 35 percent for Cambodian students. A cycle of poverty forms for Southeast Asians when there is not a clear path to higher education."
Tony is currently working on the "All students count" campaign, which seeks better disaggregation of student educational data for all ethnic groups, so that programs and services can be better targeted toward the students who need them most. Tony is an "amazing activist" according to League of Education Voters Community Organizer Joyce Yee.
Tony testified at the recent hearing for Rep. Sharon Tomiko Santos' bill on closing the achievement and opportunity gaps (HB 1541), and he mobilized six others to attend and testify. He and the others testified about their experiences as English Language Learners, the importance of data disaggregation, cultural competency, and more. Tony also worked with five student interns to collect 300 cards signed by community members from across the state in support of recommendations by the Educational Opportunity Gap Oversight and Accountability Committee (EOGOAC), specifically regarding the use of better data disaggregation, which they then delivered to legislators after the hearing.
Tony is also a council member of the Southeast Asian Education (SEAeD) coalition, which formed in 2011 to raise awareness of how the opportunity and achievement gaps affect Southeast Asian American students.
What's next for Tony? Well, Tony says he wants to continue his advocacy work and mobilize others to advocate, as well. He is considering graduate school in either social work or education. But, wherever Tony ends up, he says that he will always be involved and active in the Southeast Asian American community.