Access to high-quality early education has been life changing for our daughter, Eva Rose.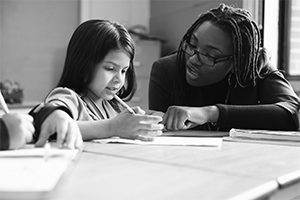 That's how Seattle parent Jessica Colinares describes her daughter's experience in preschool. Eva's success—thanks to her access to high-quality early learning—isn't extraordinary; rather, it's the norm.
Support has been growing for quality early childhood education throughout Washington state—and across the country.
Many studies show that children in high-quality early learning programs are more prepared for kindergarten, more likely to graduate high school, healthier, more likely to be employed, and report higher income. They are also less likely to repeat grades, be placed in special education, be involved in the juvenile justice system, and commit crimes as adults. High-quality early learning is one of the best ways to close the opportunity and achievement gaps, which are already present by the beginning of kindergarten. Much of high-quality early learning focuses on the social and emotional learning that is so vital throughout a child's life.
Early learning benefits add up to savings for school districts, taxpayers, and the state. In some cases, school districts save approximately $3,700 for each low-income child or child with risk factors who receives early learning. There is an additional $1,000 of savings per child in costs outside of school like healthcare, drug prevention, and criminal justice.
Children furthest from opportunity who do not have access to high-quality early learning experiences are 40 percent more likely to repeat a grade, 29 percent more likely to drop out of school, 41 percent more likely to be placed in special education, 60 percent more likely to never attend college, 33 percent more likely to be arrested as a juvenile, and 42 percent more likely to be arrested for a violent crime, all of which require costly state resources.
In Washington, the Early Start Act, a bipartisan piece of legislation recently introduced in both the House of Representatives (HB 1491) and the Senate (SB 5452), would ensure that all children get the great start they need in life. In particular, the Early Start Act would:
Help parents find high-quality care and learning opportunities to suit their kids
Promote high-quality early learning and parent choice
Prepare more kids for kindergarten
In short, the Early Start Act has the potential to give all students the kind of start that Eva had, according to Jessica: "We can see the difference academically—she started kindergarten a reader, with a strong handle on numbers 1 to 100, and doing basic calculations like adding and subtracting. But just as important, she developed in preschool a confidence and love for school that fuels her curiosity and helps her thrive in kindergarten."
Learn more about the importance of early childhood education through the Early Learning Action Alliance.