By Beth Sigall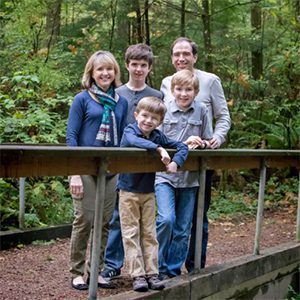 Today as we observe World Autism Day, there is much to celebrate in our 14-year-old son Anthony's life. Our journey began in 2002 with an autism diagnosis a few days shy of his third birthday. Like many parents, we were filled with more questions than answers, lots of anxiety, but a singular determination that together, somehow, we would figure this out so that our son could live a meaningful, productive, and enriching life.
We've faced many challenges since then. Learning to communicate, to do basic living skills, attend school, be part of a family, and just be a kid—all these things required countless hours of work by and with Anthony. Today he is an energetic teenager who loves to play Minecraft, take long and rigorous hikes with anyone who can keep up with him, do comedy improv, play piano, and hang out with his brothers and cousins.
Just a few weeks ago Anthony learned to do something ordinary, but for him and for many people with autism, it was extraordinary: he learned how to take public transportation.
He did this the same way he's learned many other tasks—by breaking it down into steps, with lots of previewing and reviewing, and practicing various "what-if" scenarios to learn how to respond to the typical events on a bus route. He also works with a life coach who rode the bus with him on the first few days, helping him with transferring, keeping track of his fare card, and other needs. It's a long bus ride from his school to our home—90 minutes door-to-door. A lot can happen in 90 minutes.
After several days of hard work, not only had Anthony learned to take the bus, but he had started to grow up. He had crossed that coveted threshold into adulthood—that place where we make our own decisions, live our own lives, and start to fill in the blank pages of what our future will become.
Riding a bus is a way for our son to rely less on "Mom and Dad" and more on his larger community—on bus drivers, students, and teachers at his school; and yes, even strangers. Strangers who offered him advice on how to keep track of his fare card ("use a lanyard"). Moms with their own young children who kept a watchful eye on him because they knew (Moms always know) he was learning to do something really important on his own. Bus drivers who reminded him to scan his fare card when he forgot. Teachers who reminded him "today is a bus day," and made sure he didn't forget his coat or backpack as he hurried out the door.
It's hard to let go of your kids when they grow up.
This is also true for parenting a child with autism, but the difference is that the letting go is far more uncertain and requires a faith in humanity that can at times overwhelm.
Anthony will always need extra help—extra patience, extra kindness, extra understanding. And we, as his parents, won't always be around to help facilitate that.
But watching him learn to take the bus—and watching all those along his route come together to somehow miraculously deposit our son on our doorstep at the end of the school day in one piece with a smile on his face—that process has brought home to us a deeper appreciation for what it means to belong to a community. A community cares for all of its members, looks out for each other, respects differences, and lends a helping hand, at times without even being asked.
And that's why on this World Autism Day, we celebrate an ordinary event—riding a bus—because it reflects so much extraordinary potential in our common humanity.
Beth Sigall is a mother of three and a dedicated education advocate. She serves as the Vice President of Advocacy for the Lake Washington PTSA Council and was recently named their Outstanding Advocate by the council at their Founders' Day Luncheon. To learn more about autism, visit Washington Autism Alliance & Advocacy.