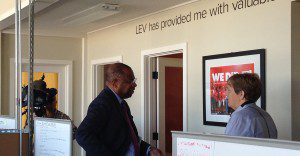 The League of Education Voters' CEO Chris Korsmo was interviewed by Kiro 7's Essex Porter about the Washington State Supreme Court's contempt ruling in the McCleary v. State of Washington case yesterday.
Regarding the contempt ruling, Chris said: "We know the opportunity, we know the urgency, we know the obligation. Let's give the state the opportunity to make good on their word to do something this session."
While the League of Education Voters was not a plaintiff in the McCleary case, the foundation did file an amicus brief in January 2012.