When I reflect back on my education, it becomes clear pretty quickly that there was not one big "aha" moment. I didn't just wake up one morning and was suddenly enlightened about everything on the face of the earth. And we haven't yet figured out how to download information directly into our brains, like Carrie Anne Moss suddenly learning how to fly that helicopter. Everything I learned built on what I had learned previously. Graduation requirements at my high school were aligned to college-going. While rigorous, those requirements allowed for the arts. Seven years of marching band made me who I am today. All the stories about band camp are true.
This is why our vision at the League of Education Voters is for every student in Washington state to have access to an excellent public education – from early learning through higher education – that provides the opportunity for success. And this is why LEV is a proud member of the Cradle Through College Coalition.
To that end, during the 2017 legislative session, LEV is advocating for:
Additional funding for increased access and participation in high-quality early learning programs across the state
A system that attracts, retains, and supports qualified and effective educators, which includes teachers, para-educators and principals, while addressing needs for equitable access to quality instruction
Programs and funding targeted toward students who need it most, providing both academic and non-academic supports for students to improve outcomes and make progress in closing the opportunity and achievement gaps
An accountability system that provides transparency for families on school budgets and student outcomes, measures student and school success meaningfully, and provides effective state- and district-level supports for struggling schools
Additional funding to serve all students eligible for the State Need Grant
Here's what we know about our kids: They all have assets. Every one of them has talent. They are not widgets. They want to know that what they're learning has meaning. And they want you to know their names. For all the difficulty we ascribe to changing education policy, it's really pretty simple:
Foundational skills that transfer with them to careers
Access to information about possible career choices
Individualization
Applied learning or relevance
And adults who care about them
Speaking of caring adults, none of my success would have been possible without great teachers. Research consistently shows that a great teacher has the single biggest impact on whether a student will succeed. I know this from personal experience, and I thought you might appreciate these photos from my education path: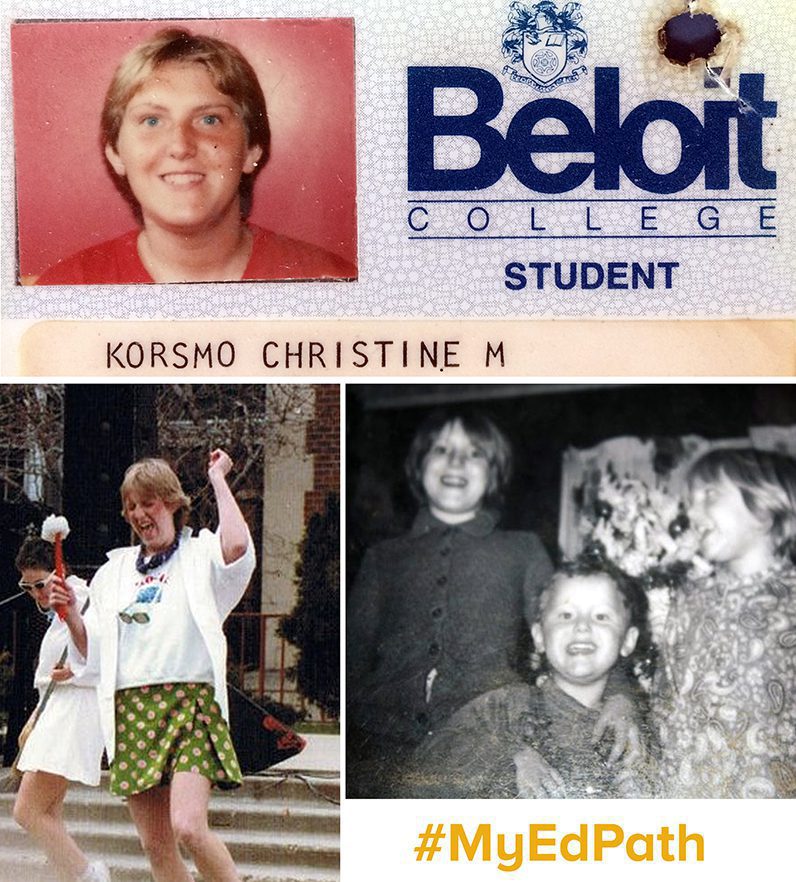 Spring Day at Beloit College was a huge day of fun. There were no classes, and air band contests were the order of the day. Guess which band we were and who I was? I believe the year was 1983. I'm holding a toilet brush, in case you're curious. For the record, the brush was brand-new.
I couldn't have made it to Beloit without support from my favorite teacher, Sue Remley. I had her twice for math in high school and she took me under her wing. I could tell she was paying attention, which is why I did not want to let her down.
Her expectation for me was a motivating factor in applying to and going to college, because she let me know when the SATs and ACTs were. She even asked me who I was sending them to. She had 150 kids a day, in six or seven classes. And she knew everybody. I wasn't the only person she was talking to. I wasn't the super special kid. Everybody was super special. And that was cool.
Wouldn't it be great if every student had a story about a favorite teacher, and every student had access to great teachers from early learning through higher education to help them along their education path? Call your legislators and encourage them to support the full education continuum at 1-800-562-6000. If you need help finding your legislators, just click here.
#MyEdPath