By Andre Lawes Menchavez, Engagement Intern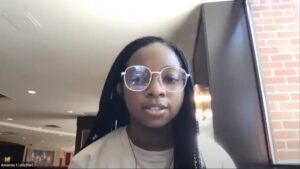 As the national movement continues for Black lives, it proceeds to expose various facets of society that are impacted by the lack of equity for marginalized communities.
One area, in particular, is education.
The intersection of equity and education has become more evident in the recent climate of our world.
Black folx dying at the hands of the police intersect with the conversation on school resource officers (SRO's) and the need to uphold restorative justice programs for discipline in schools. Pipelines to prison for BIPOC intersect with the conversations on diversifying the workforce in schools for more visibility of BIPOC teachers, counselors, and mentors for students. As COVID-19 ravages throughout the country and eliminates access, it intersects with the conversations on alleviating these same issues for students who are low-income and/or live with special needs.
Back to School: An Equity Centered Conversation with Parents, Providers, Teachers, Educators, and Students was a virtual event aimed to tackle these equity issues in education. Community members came together to discuss why and how we should use racial equity and social justice lenses to reimagine how schools can support every learner.
The event kicked off with speaker Erin Jones from The Equity Fishbowl setting a framework for the day.
"Our goal is to learn," Jones said. "I hope for decision-makers that you make a commitment to connecting with young people… listening to people who are not often engaged in this conversation."
A compilation video was presented where parents, students, and teachers stated what they needed from schools before they felt safe to return in the fall.
Students, specifically, were always at the center of the conversation during the virtual event, especially with having student Amanda Chamba of the Bellevue College Black Student Union as a speaker.
Chamba spoke on the experiences of Black students and their barriers to educational equity, emphasizing how the conversations on reopening schools and the public health safety of students must also consider the safety of Black students that continues to be ignored.
"Students came to campus unsafe before this pandemic happened," Chamba said while also reminding the attendees that students of color have been disproportionately affected by this pandemic as well.
An emphasis on these minority students was echoed by another speaker.
Fernell Miller, founder and CEO of The Root of Us, spoke about the importance of checking in on her Black students. The impact of this act, she said, made these students feel seen and heard — something many of them have never felt before.
"One kid said that school should feel like love," Miller said. "School should feel like love and not a chokehold with a smile on it."
Miller emphasized that the best step forward is to find the most in need and take their lead.
Sharonne Navas, Executive Director of the Equity In Education Coalition, resonated with this sentiment by dissecting typical decision-making processes in schools: from early learning to higher education, adults make the decisions.
Navas believes, however, that we must ask our kids what they want from schools and make decisions that prioritize their needs above ours.
Often, decisions that affect BIPOC, LGBTQIA+, undocumented, and low-income students are not being made by people who are a part of these communities.
"We really have an opportunity to re-envision what education looks like, what it means for ourselves, for our kids, for society," Navas said. "You need to include folx that you most affect, and we never include students."
The event also had a number of breakout rooms for post-speaker presentation discussions. Topics ranged from the importance of Black history and pan-ethnic studies to supporting students with special needs.
One room was focused on mental health and healing for students, critical during this unprecedented time.
Attendees discussed the importance of having more mental health professionals in schools as opposed to resource officers, prioritizing the mental health and safety of students.
They discussed the importance of creating mental health check-ins for students through Zoom starting this summer and going into the fall as this pandemic, recent racial justice movement, and the educational atmosphere with a shift to online learning is a lot for students to endure. This is especially true of students with fewer resources and access.
A student named Caroline spoke in the breakout room about the importance of teachers understanding mental health and its impacts on students, especially in the way it creates inequities in individual student educational experiences.
For example, Caroline explained that students having more knowledge and access to mental health resources in schools would benefit them and are crucial in giving them support before students may escalate into a mental health crisis.
The concerns Caroline speaks of are great examples of why we need students at the forefront of these conversations on the return to school.
If schools are made to uplift and educate our students, how can we leave them out of the process of deciding what is the best way to uplift and educate them?
All eyes are on decision-makers in many facets of our country on what they're going to do to enact change and better these inequitable systems. As they decide what to do, including our stakeholders in Washington state education, there is a fear that communities speaking out will again go unheard.
Events like this, however, are the beginning steps to placing student voices at the forefront of the conversations on returning to school. It serves as a reminder that students are most affected by the lack of equitable steps taken by those in power, including in the educational system. Therefore, it reiterates that student voices are needed now more than ever and are crucial in formulating equity-centered changes in what schools should do next.
"Our students have all the answers," speaker Miles Francisco said in his speech. "Take responsibility for your role in the harms and violence our schools inflict on our marginalized students. Be better by them by addressing and deconstructing your complicity in oppressive schooling."
The full event recording is available to watch, as well as a recap of the individual breakout rooms.
Love what we do? Support our work
Want to find out the latest in education news in Washington? Subscribe to our newsletter
Want to learn more about League of Education Voters? Find out here