League of Education Voters Community Organizer Ruvine Jiménez traveled to Washington, DC, to attend a US Senate Education Committee hearing and speak with her legislators with two eastern Washington education advocates, Quontica Sparks and Gabriel Portugal. Below is Ruvine's account of her trip.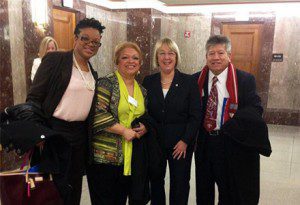 I am so appreciative for the opportunity to visit Washington, DC, and attend a U.S. Senate Education Committee hearing on the Elementary and Secondary Education Act (ESEA) reauthorization, as well as speak to our senators, representatives, and their legislative aides. I enjoyed hearing from Senator Murray about her hopes for all Washington kids and speaking with Representative Newhouse, who hails from Sunnyside, Washington.
In addition, I was grateful to have been accompanied by such great community leaders from eastern Washington. We were given the opportunity to stand up and testify on behalf of all children. But most importantly, I was grateful for the opportunity to explain why accountability, fair and reliable assessments, and equal access to high-quality public education is important for all kids.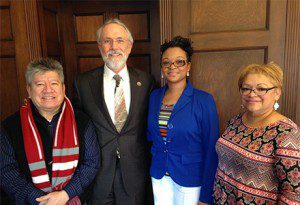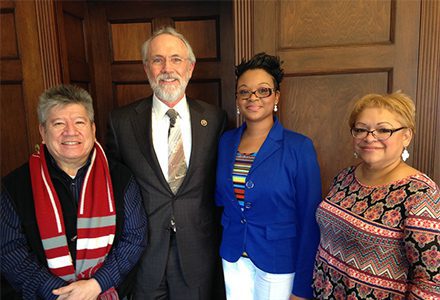 My own grandson experienced trauma at the age of three—a time when children's brains are rapidly growing. I already feel like I have failed my oldest daughter, who is 34 and has Attention Deficit Disorder (ADD). It was not until I started to work for my local school district that I learned about ADD and the special education department. By that time, my daughter was already struggling in middle school. No one ever mentioned to me or considered that she might have a learning disorder until I had her tested.
Thanks to my work with the Department of Early Learning and supporting childcare providers, I learned about developmental guidelines and benchmarks. So, I could tell that my grandson was meeting his developmental benchmarks up until the traumatic experience. I became concerned with his cognitive skills when he turned four, and I began making a concerted effort to make sure his development was progressing as it should.
My grandson attended Headstart beginning at age four, attended all-day kindergarten at age 5, and then transitioned to a different school at age six for first grade.
He is doing much better socially and emotionally now as a second grader. Nonetheless, when he starts third grade, it is imperative that he be tested so that we can request additional supports through the special education department if needed.
I am deeply concerned not just for my own grandchildren but for all children. They are our future leaders.
The legislators and legislative aides were receptive to our message that accountability, fair and reliable assessments, and equal access to high-quality education is important for all kids.
When we left Representative Newhouse's office, we walked outside to see tens of thousands of people marching down the National Mall, and the first thought that came to me was that this is democracy in action. I am humbled to be a part of it.