At League of Education Voters, we recognize all of the hard work that you do toward improving public education across Washington state.
Meet our Education Advocate of the Month for October: Leo Perales. Read about his experience as a strong advocate for equity in the Tri-Cities and beyond.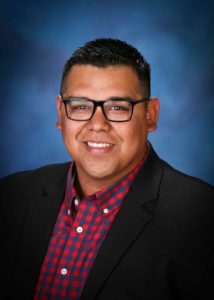 Leo Perales is vice chair of Consejo Latino, he is part of League of United Latin American Citizens (LULAC), and was one of the first community members to join the Campaign for Student Success, the coalition that advocated during the 2017 legislative session for education funding to go toward the students who need the most support. Since 2015, Leo has worked continuously with League of Education Voters Community Organizer Ruvine Jiménez. He is involved in forums and events encouraging community activism to improve the quality of life in the Tri-Cities. He currently manages The Perales Report Facebook page.
Leo was born and raised in Kennewick, Washington, the grandson of migrant workers, and the son of Jennifer and Lloyd Perales, who have family ties to the lower Columbia Valley. He graduated from Kamiakin High School in 2005, and later transferred to Columbia Basin College and eventually Heritage University, where he received his Bachelor's degree in 2012.
He is proudly married to his wife Janette and has two kids, Jade and Kingston. His children are his inspiration for his community involvement and why he won't ever stop fighting to rectify the injustices he sees in his community, especially the right to a first-class education.
To that end, Leo has advocated with Superintendent of Public Instruction Chris Reykdal, and is involved in this year's campaign to pass a bond in the Pasco School District. "I see education as a pathway to a brighter future," Leo says, "and I want to ensure that students have the tools they need."
Leo's entire family values education
School was difficult for Leo when he was young. "I had a speech impairment," he recalls. "I didn't catch up until I got to high school." Fortunately, he received speech therapy at school. Leo believes that our education system should be more equitable, schools should receive targeted funding, instruction should be tailored to the individual, and that every student should receive the support they need in order to succeed.
"Education is important to my family," Leo says. "If you don't have it, it's going to catch up to you in the long run." His parents went to college, and Leo secured financial aid to finish his AA degree at Columbia Basin College. He also received extra tutoring when pursuing his BA at Heritage University. Now Leo works as an engineer and considers himself a lifelong learner; he looks forward to attending conferences and workshops
Encouraged by the legislature's 2017 McCleary school funding deal, Leo sees eliminating disparities between school districts as an opportunity for change. "Districts shouldn't be poaching teachers," he says. "Emergency teachers are holding kids back." He hopes that this year's $7.3 billion agreement will make our system better. "We want every kid to succeed, not just a few."
He is glad the Every Student Succeeds Act passed, so that there will be more accountability. "But beginning teachers still need to be paid more," Leo adds. "$40k for starting teacher salaries doesn't compete with Hanford engineers who make $100k."
Leo considers himself fortunate to live in the Kennewick School District. He cares what happens across the Columbia River in Pasco and Richland, and across Washington state. "People need to understand that we have public schools for a reason," he says. "They're not a burden – you're providing opportunities for the next generation."
Most of all, Leo likes working with League of Education Voters because of our focus on students. "I like working with organizations who believe it's all about the kids," he says. "And [League of Education Voters] provides the facts."
Love what we do? Support our work
Want to find out the latest in education news in Washington? Subscribe to our newsletter
Want to learn more about League of Education Voters? Find out here