At League of Education Voters, we recognize all of the hard work that you do toward improving public education across Washington state.
We are pleased to announce our Education Advocate of the Month for May: Maite Cruz. Read about her advocacy for increasing expectations of success for her community.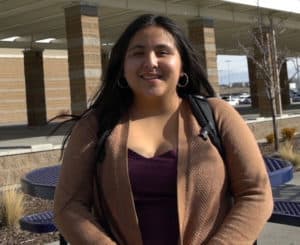 18-year-old Maite Cruz is a senior at Chiawana High School in Pasco, and plans to study political science this fall at Western Washington University. Already she has testified before the state legislature in Olympia, testified before the State Board of Education, and has been a tireless advocate for her community group, Ambassadors of Lakeview Achieving Success (ALAS).
Maite met League of Education Voters Community Organizer Ruvine Jiménez during her freshman year of high school, when she started attending Pasco Discovery Coalition meetings. Ruvine showed Maite how she could become a more active advocate for her community and her peers, and guided Maite through the process of organizing community forums. Maite recalls, "Ruvine came to Lakeview, and showed us statistics about my school and how it compares with other schools."
Maite was struck by the differences between schools from east of the Cascades and schools on the west side. "There are more agricultural workers and more poverty (on the eastside), compared to more businesses and realtors (on the west side)," she says. "Test scores were so different."
Testifying at a State Board Education meeting in Seattle was a game changer for Maite. She says, "For the first time, I realized that my voice could make a difference. I spoke about standardized tests, because while some believed that students only needed to score a 2 out 4 on the high school test to be ready for college, I strongly believed that in order for my peers and myself to actually be college ready, we had to score at least a 3. I knew that we were capable of more." Although Maite did not achieve the result she wanted from the State Board meeting, she did gain the attention of the adults in the room.
Maite believes that the purpose of attending elementary, middle, and high school is to become prepared for college. "We need to be ready to take the courses that make us part of the community," she says.
Reflecting on recent advocacy work, Maite describes how her Pasco community of Lakeview used to be 3 miles from the nearest bus stop. She says, "Taxi rides used to cost a dollar to get there. Where we live – 10 people in a trailer – a dollar makes a difference, especially when farmworker families cannot harvest in the winter."  She is thankful for mentors, who helped her talk to Benton and Franklin county officials to create a closer bus stop. "I got students to go door-to-door asking community to get behind this, and we got a crowd who came to testify" she explains. "I was proud to get the community engaged and to express their concerns."
When Maite attended elementary and middle school, resources such as tutoring and afterschool programs worked really well for her. Maite adds, "But then you have teachers who aren't as aware of what the student can be going through. I feel like between parents and teachers, they should be ready for us, and we should be ready for them. There were really wonderful teachers that were there for me – they were active teachers."
Although she had supportive adults in her education journey, Maite wishes she had more specialized teachers. "In middle school, we have a PE teacher who was also our math teacher and our English teacher," she says. "I'd have liked my teachers to be more focused on the kids they have in their class. Class sizes are too big – it's hard with 31 kids." Maite shared that when her classmates went on field trips, the adult-to-student ratio was always 1 to 5.
Maite envisions an education system that is more culturally aware, and more supportive of the challenges students face outside of school. "Some students in my community don't have heaters or can't go to sleep for a reason," she says. "They'll fall asleep in class because it's warm. Kids aren't being rude or disrespectful. Teachers should ask what's going on. Students would tell them that it was cold in their house, and that they couldn't afford to pay for heat or lights, so they didn't have a heater. And it's just little things like that. Teachers could say, 'Try not to fall asleep again, and I'll catch you up,' instead of putting students on the spot. That's something I would change if I had a magic wand."
When asked why she supports League of Education Voters, Maite says, "We still have so much work to do. LEV has opened my eyes to the power of the individual – even students like me – to fight for change in education, and equity in education. LEV has been there in my corner – believing, as much as I do, in the value of all of the students in our state, and the heights we can reach, with the right tools."
Love what we do? Support our work
Want to find out the latest in education news in Washington? Subscribe to our newsletter
Want to learn more about League of Education Voters? Find out here