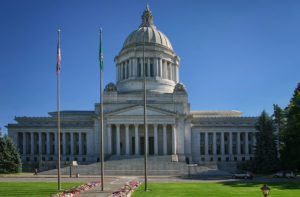 House Democrats and the Senate Majority Coalition Caucus (MCC) have released bills to address the McCleary education funding lawsuit.
The House plan, HB 1843, would set a minimum salary of $45,500 for new teachers, and would slow the decrease of maximum local school tax levies from 28 percent of total state and federal funding, to 24 percent by 2021, instead of by next year as under current law. The basis for the calculations is changed, as well; and HB 1843 seeks to lower teacher-student ratios.
The Senate plan, SB 5607, sets a similar minimum starting teacher salary of $45,000, and the state would collect local property tax levies for schools, adding $1.4 billion per biennium to supplement education funding. Local districts could still raise additional money with voter approval, but the amount would be capped and could only pay for extras, not basic education.
See our side-by-side comparing fiscal elements of the House Democratic plan and the Senate MCC plan with the current funding system and Governor Inslee's budget plan here.