By Jacob Vela, League of Education Voters Senior Policy Analyst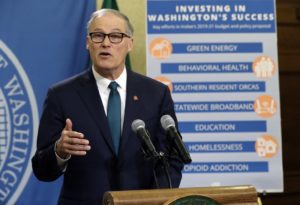 Governor Jay Inslee released his 2019-21 budget proposal today. The Governor's proposal is a start to the budget conversation that will get underway in earnest on January 14, 2019 when the new legislature convenes to begin hearing legislative proposals for their 105 days of the scheduled regular legislative session that extends through mid-April.
The proposed budget includes around $1billion in funding increases across the education continuum from pre-school through higher education. The governor recommends $173 million more for early learning, including serving 2,385 more students through the Early Childhood Education and Assistance Program (ECEAP).
An increased focus is brought to student mental health with $155 million in additional investments for school nurses, psychologists, social workers, and guidance counselors for elementary and middle schools. Funding will be rolled out over several years with a priority given to low-income districts.
Gov. Inslee also supports the adoption of Superintendent Reykdal's proposal to establish a new special education funding system which includes $94 million more in special education funding for the upcoming biennium. Additionally, the proposal contains a $51 million increase in Special Education Safety Net funding for districts that experience high costs in serving students with disabilities.
For higher education, Gov. Inslee supports fully funding the State Need Grant, for the first time in the history of the program, in 2020-21 by serving 18,000 more low-income students than are currently served. The Governor would also like to dedicate $50 million to enhance student support services at higher education institutions across the state to help increase program completion rates for students.
Included in the proposal is to increase revenue through an increase in the business and occupation tax on services and other activities, changes to the real estate excise tax, and establishing a capital gains tax. These changes would bring in an estimated $4 billion next biennium to help fund a number of investments across that state, including education.
The proposal brings needed attention to some key areas across the education continuum that need additional investment. As the conversations around the budget continue, you can check back here during the 2019 legislative session to see how the House, Senate, and Governor's budget proposals stack up against each other.
Listen to our podcast interview with Governor Inslee on his 2019-2021 budget proposal
Watch our Lunchtime LEVinar on what to expect in the 2019 legislative session
Love what we do? Support our work
Want to find out the latest in education news in Washington? Subscribe to our newsletter
Want to learn more about League of Education Voters? Find out here