By Ingrid Stegemoeller, Communications Manager, Ready Washington
Guest Blogger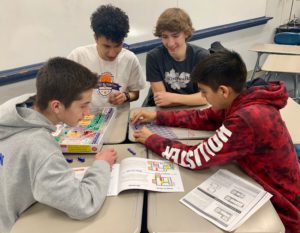 Who am I? What can I become? How will I become that? These are questions many of us ask throughout our lives – starting at an early age and, often, continuing through adulthood. Here at Ready Washington, these are questions we urge students to consider early and often, with support from counselors, teachers, family, and other caring adults. Our coalition provides resources and information to support students in planning their education-to-career paths – whichever paths they choose.
The main pathway planning effort in our state is the High School and Beyond Plan process (HSBP), a graduation requirement that enables every student to plan for and pursue education or training and careers after high school. Students' minds can change as they grow and develop new goals, and the Plan is designed to be flexible and adaptable as students review and update their Plan each year.
As students embark on a new school year, we are sharing key information and resources about the Plan process to equip students, parents, and educators for important conversations about students' goals and aspirations for their futures. Here are some answers to a few common questions about the Plan process:
What does the Plan look like?
The state Office of Superintendent of Public Instruction (OSPI) has templates available in 10 languages, which can be found here. Many districts use digital platforms for the Plan process (and will be required to do so for the 2020-21 school year).
What are the elements of the HSBP?
With support from counselors, teachers, families, and other adults, students complete the following components:
Start the Plan by 8th grade (include advanced coursework if students meet or exceed state standards in English and/or math)
Identify possible career goals based on their interests
Identify educational goals
Create a high school course plan that aligns to students' interests and meets graduation requirements
Updated the Plan to inform junior year course taking that aligns with students' graduation pathway
Receive information about financial aid, including the FAFSA/WASFA
Create an activity log or resume to use in applications
What if a student changes his or her mind?
That's great! The HSBP is meant to be flexible and is expected to change throughout the student's educational journey. Schools are encouraged to revisit the Plans with their students each year and to use students' Plan information in ongoing conversations about their goals and coursework. As students' career aspirations change or as they participate in internships, jobs, or extracurricular activities, the Plan should be updated.
I'm a parent. How should I be involved with my child's Plan process?
Regularly reviewing and updating the Plan with your child throughout middle and high school is one step you can take. Check in with your student about their Plan regularly – consider asking if you can see it and what your child is doing now to meet their goals. You can also ask your student's teachers and counselor for more information.
Are students with Individual Education Plans (IEPs) required to fill out a High School and Beyond Plan?
Yes, students with IEPs must have a HSBP that is developed and updated in alignment with their IEP. The Plan must be developed in a similar manner and with similar personnel as for all other students.
Where can I find more information about the HSBP process and other resources to prepare students for their education-to-career pathway?
Love what we do? Support our work
Want to find out the latest in education news in Washington? Subscribe to our newsletter
Want to learn more about League of Education Voters? Find out here