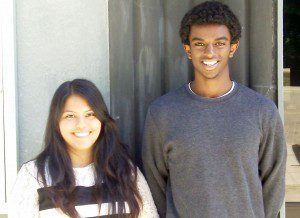 Brenda and Dawit are joining LEV from the Rainier Scholars program as summer interns. Here's what they had they say about choosing to intern with LEV, what they like to do in their spare time, and much more.

Brenda Mancilla-Martinez: I graduated last month from University Prep, a 6-12 private school. I will be attending the University of Washington this fall. GO DAWGS!
Dawit Workie: I go to St. Michael's University School, a boarding school in Victoria, B.C.
1.Why did you choose LEV for an internship?
Brenda: Throughout my high school career I have participated in several law and business summer programs like the Just the Beginning Foundation (University of Washington) and the Future of the Law Institute and Albers Summer Business School (Seattle University). After participating in these programs, I realized that I wanted to be a lawyer, but I do not know what specific field I want to take yet. Earlier in May, I filled out an application for an internship through Rainier Scholars. One of my interests has always been education given that Rainier Scholars is a program that targets students who are the most underrepresented in college campuses.
I've had my own share of problems with the education system that we have. When I was in Head Start as a pre-schooler, English was my second language, and I didn't know it well. I went through Kindergarten and 1st grade barely understanding what I was being taught; I got in trouble a lot with my teachers because I wasn't following directions but they failed to realize that I just didn't understand them. It wasn't until I got in trouble multiple times that my school realized that I needed to be in the ESL program. I was in ESL until 3rd grade when I asked to be put in the normal class because I felt that I no longer needed to be helped with my English skills.
In 5th grade I joined Rainier Scholars, who helped me get into the Spectrum program at Washington Middle School and ended up going to University Prep for high school. I chose LEV because I can relate to the many kids in Washington State that feel that they are not being paid enough attention in school and that feel that they won't make it past high school because I always thought school was really hard. I want to learn what organizations such as LEV do to advocate for education and how the government plays a key role in the decisions that are made.
Dawit: I chose LEV for a summer internship because helping raise awareness and advocate for public school education in my opinion is a very important topic. Education is what decides ones future; it can have such a significant impact on an individual. Everyone can have a successful and have a happy future if they are educated. Education also decides the future of our nation, how well we educate the future generation is what essentially decides the fate of our country. I have been to both public and private schools so I understand the differences, and in what ways public school education can improve.
2. What do you like to do in your free time?
Brenda: I watch all the Christian Bale Batman movies at least one a week (I'm a huge fan), I hang out with my friends, spend time with my family, search for the latest information about my favorite band, One Direction (British boy band), text, listen to music, and volunteer as a Spanish translator at Rainier Scholars.
Dawit: In my free time I like to be active, which includes going to the gym, playing basketball, or going for a run. I also like to spend time with the family and hang out with friends.
3. Favorite high school moment?
Brenda: We turned the lunchroom into a club as our senior prank.
Dawit: My favorite high school moment was when I was on a rugby tour in Argentina. We traveled to Iguazu falls, on the border of Brazil, which was an unforgettable experience. My favorite moment was when I was leaning on a bridge watching the waterfall with my friends as the water sprayed back at us. It was an amazing moment that I could have never experienced living in Seattle.
4. What do you hope to do when you're older?
Brenda: I hope to work for the UN as an international human rights lawyer; I'd love to be stationed in different cities around the world. That may change though as I do not know what specific field I want to work in as a lawyer.
Dawit: When I'm older I hope to go into sports medicine. I've played many sports throughout my life and have a huge passion for them. At the same time, I've always been interested in biology and medicine. So one I day I hope to combine my two interests and go into the field of sports medicine.
5. One thing you hope to accomplish this summer?
Brenda: To ride Seattle's "Great Wheel" when it opens to the public on June 29th!
Dawit: One thing I hope to accomplish this summer is to spend a lot of quality time with my family. I go to a boarding school so I don't get to see them much throughout the year. So this summer whenever I have free time I hope to spend it with all my family and make up for the lost time.
Here's what Brenda and Dawit had to say about Rainier Scholars.
Rainier Scholars is an 11-year academic journey that requires a great deal of commitment, patience, and hard work. The program is devoted to helping underrepresented young people push themselves to reach their full potentials and ultimately graduate from university. Students apply for Rainier Scholars in the fifth-grade. If you are chosen, six weeks of your summer are spent in a classroom, and during your school year you have extra accelerated school every Saturday and Wednesday. That's all topped off by another six weeks of summer school! During all that hard work, we learn the three pillars of Rainier Scholars: Perseverance, Integrity, and Courage.
So is all that work worth it? After graduation you are provided with numerous opportunities, and countless new friends. Simply, it was definitely worth it. In the end, we are breaking down barriers by attending colleges around the country and proving that students of color can not only attend a four-year university but graduate as well. Cohort 1 will be seniors in college this year and will be the first to finish the 11-year program.
Go here for more information about Rainier Scholars program.