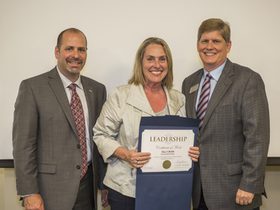 The Issaquah School District honored League of Education Voters State Field Director Kelly Munn with its Community Leadership Award at the Washington School Administrator's Association's regional awards ceremony held at the Puget Sound ESD on May 23, 2014.
Kelly has been an active volunteer in the Issaquah School District and an advocate for public education for many years. Kelly's leadership has been instrumental in helping the district maintain high quality programs and meet the demands of continued growth as co-chair of the Volunteers for Issaquah Schools Community Bond and Levy Committee. Over the years she has also been very active in PTSA and served on the board of the Issaquah Schools Foundation.
Congratulations to Kelly for this tremendous honor!