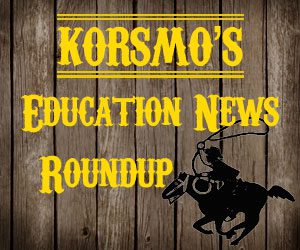 Friday again. Is it my imagination or are they getting colder?
We are in the final stretch for this election cycle – anyone else not quite ready to give up those political ads? Didn't think so – Lots of education issues playing out on the ballot and in the rhetoric, between Seattle's supplemental levy (other districts have similar levies on the ballot as well), Initiative 1098 the income tax on the wealthiest Washingtonians which would fund education, R-52 , the bond measure that would retrofit schools with "green" building systems or Patty Murray's ads featuring her education credentials the you'd think we make education a priority here. Remember to vote – and help your friends do the same.
Nationwide, races are tightening and one to watch is the Colorado Senate race where former Denver Superintendent and current U.S. Senator Michael Bennet is locked in a dead heat with GOP candidate, Ken Buck who has some, er, "interesting" perspectives. Bennet has been at the forefront of education reform and folks are wondering just what this election means for the Obama agenda moving forward.
There has been a fair amount of attention given to for-profit institutions of higher learning lately, but at least one opinionator believes that the focus has been misplaced. These schools are full of low income students – disproportionately so – who graduate at very low rates and therefore don't improve their social mobility.
Wondering what D.C. Schools will look like in the aftermath of the Mayoral election and the shake up at Chancellor? WaPo lays down the five things to watch for.
That's it for this week. I'm off to the national Race and Pedagogy Conference in Tacoma. This year's conference theme: Teaching and Learning for Justice: Danger and Opportunity in our Critical Moment. Have a great weekend, all.