At the League of Education Voters (LEV), we recognize all of the hard work that you do toward improving public education across Washington state. We are pleased to announce our Activist of the Month series. The first person we are recognizing as our Activist of the Month is Nicholas Bradford.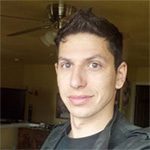 Nicholas Bradford specializes in restorative justice and transforming school discipline. He first became involved with LEV through our discipline work, and he served as part of the panel for our May 2013 community event, "Stop school suspensions: Solutions for safe, secure classrooms without removing kids."

Bradford describes restorative justice as a "relational approach to harm." It answers the question, "How do we at the same time hold youth accountable to the harm of their actions and build strong student-teacher connections and relationships?" Restorative justice seeks to reinforce the research connecting school success to school bonding and strong adult youth connections.
Traditional school discipline, with suspensions and expulsions, are problematic, Bradford says, because suspending a student is telling him (or her, but usually him), "We don't want you here." Restorative justice, on the other hand, tells the student, "We do want you here, but your behavior is not successful in this setting."
Bradford says he has always been interested in working in education, but he was first introduced to restorative justice and trained as a restorative justice facilitator at the community level when he lived in Vermont. After completing a master's in educational policy at the University of Washington in 2012, Bradford now works as a consultant to schools and districts around western Washington.
A member of the US Coast Guard Reserve, Bradford has traveled extensively, and he says that his experience traveling and living in other cultures helped him understand how critical cultural competency is in working toward discipline reform and reducing the opportunity and achievement gaps.
Working in schools on discipline, Bradford has noticed that the vast majority of teachers are white females, while the majority of students being expelled or suspended are male students of color. This is a "huge cultural divide involving income, gender, and race," Bradford says, which has a large impact on building and maintaining supportive relationships.
In addition to his participation at LEV events, Bradford has joined us in testifying to policymakers at the district and state level. He also supports alternatives to exclusionary discipline by speaking at conferences, community events, and state meetings with LEV and other nonprofits such as Team Child, WA Appleseed, and the ACLU. Bradford is an inspiration to us all, and we are pleased to name him as our Activist of the Month!