By Joyce Yee, LEV Community Organizer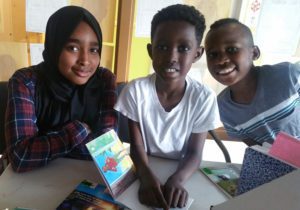 The Kent School District's Summer Splash Reading program is a pilot summer program to help students improve their reading literacy levels and skills, funded by the Race to the Top Initiative. The district is partnering with King County Housing Authority and Kent Youth and Family Services to provide support to families at the Birch Creek housing community.
Summer Splash began in the summer of 2015 and is scheduled to end in summer of 2017. The district provided three teachers to work with students grades Pre-K through 6th, Kent Youth and Family Services provided three classroom assistants, along with three older students who are in high school or alumni of the district, to help out. Students are divided into three classrooms, with 25 students in each.
While their main focus is on kindergarten readiness and improvement in reading literacy, Summer Splash uses a whole child approach. They use the American Reading Company curriculum, and students read factual material on topics such as science. The pre-kindergarten students sit together in a kindergarten academy that helps them with readiness for kindergarten, four hours a day for eight weeks. Older students in grades 1–6 work on improving literacy skills through reading texts and doing research reports, and meet 2 hours a day for 7 weeks.
The student demographic at Birch Creek is mostly Somali, Latino, Iraqi, Russian, Ukrainian, as well as Black/African American. The Kent Youth and Family support staff, and summer school coordinator intentionally recruited students from various ethnic backgrounds by knocking on families' doors, going to Pine Tree and Millennial Elementary schools to hand out applications, and making phone calls to such families in order to get them to enroll their children in this program. Students in the program have already made measurable gains in reading test scores. Of the 75 students who participated, 66 completed pre and post assessments. All students who participated maintained and improved their grade reading level, average reading growth level was 0.19 years, 4th – 6th grade students had a higher average reading growth level of 0.28 years.
The Kent School District is also working on sustainability of the program after the Race to the Top funding goes away. In the first year, they recruited teachers who weren't experienced at working with students from diverse demographics. In 2016, they recruited two district teachers from schools with demographics that reflect Birch Creek families, as well as one Kent Youth and Family Services (KYFS) teacher. This year, they will recruit only one district teacher, and two KYFS staff teachers. Professional development has been job-embedded for all staff members working with these students so that the program will be more sustainable.
During the year, Summer Splash provides afterschool homework help including reading and math. Older students are recruited to be reading buddies with younger students. This is in response to 2015 data showing that students were still 2–3 years behind grade level, and older students in grades 4 through 6 are embarrassed to ask for help. Older siblings and cousins read to younger kids. This approach helps the older students to avoid being embarrassed to read materials at lower grade levels with younger students and learn at the same time.
Shouldn't programs like Summer Splash be part of basic education?
#BeyondBasic
Read LEV's blog post on Student Supports, an Integral Component of Basic Education