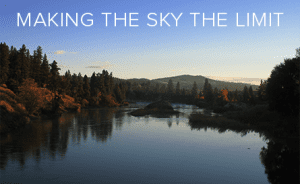 Rogers High School in northeast Spokane had a graduation rate of 50 percent in 2010. This year, the graduate rate was 85 percent, an increase of 35 percent in four years.
What changed between 2010 and 2014? Not the student body. Seventy-five percent of students at the high school are eligible for free and reduced lunch (FRL). What DID change is how students prepare for high school and life after high school.
Rogers High School is in its sixth year of a Navigation 101 grant from College Spark Washington, and they have also implemented the AVID program in their school. Both Navigation 101 and AVID are programs designed to prepare students for college or career.
One aspect of both of those programs is the High School and Beyond Plan, used to help students chart a path through high school to achieve their post-high school career goals. The High School and Beyond Plan is also one part of the newly updated high school diploma for Washington, which was passed during the 2014 legislative session. The League of Education Voters is working with communities across the state to ensure that the implementation of the new diploma is as effective as possible.
So how did Rogers High School implement the High School and Beyond Plan successfully?
Assistant Principal Brett Hale described the format for the High School and Beyond Plan used at Rogers and outlined a number of tactics that were successful:
Begin the plan in middle school.
"We partner with the middle schools and students prepare their High School and Beyond Plans beginning in 7th grade." Thus, Brett says, what was originally a four-year plan became a ten-year plan, which students preparing plans to take them from middle school through their post-secondary plans.
Revisit the plan often.
Students meet with their advisors every week. Advisories are made up of the entire school administration—guidance counselors, administrators, and teachers—so that the student to advisor ratio is 14:1.
Engage parents.
Parents engagement can make a huge difference in student success. So Rogers High School brought parents in to be active participants in their students' class registration process.
Engage students in order to engage parents.
This one is pretty obvious, right? Engaged students are more likely to be successful than peers who are not engaged. But Rogers took this one step further and organized student-led conferences with their parents. These conferences take place every year for every class, and students lead discussion with their parents on career and college readiness and the High School and Beyond Plan. They also discuss pathways to different careers and explore all of their options for their next steps after high school.For ninth grade, Brett says that Rogers added an additional student-led conference at the beginning of the year to lay the groundwork for the High School and Beyond Plan. "This conference gives both incoming freshmen and their parents the foundation they need to really take advantage of the High School and Beyond Plan and make plans for the future."
But what effect has the High School and Beyond Plan had for Rogers High School?
In addition to the 35 percent increase in graduation rates, the percentage of students graduating with college-ready transcripts has also increased by 45 percent, says Brett. "More students than ever are going to college or have college as an option now. Seventy-seven percent of our graduating seniors have been accepted and are continuing on to post-secondary school this fall."
With such great success, Brett says Rogers High School has no plans to change the way they're doing the High School and Beyond Plan. "We haven't plateaued by any means. We're going to keep this model and continue empowering all of our students to graduate high school ready for whatever the next step in their career may be. The sky should be—and will be—the limit for all of our students."
To learn more about the rules process for implementation of Washington's new high school diploma, please visit our website.