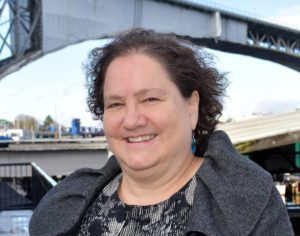 Laura Hitchcock comes to League of Education Voters as the Interim CEO from over 25 years in nonprofit and policy management. As a consultant, she has worked with Jan Glick & Associates to help strengthen organizational clients' external, internal, and strategic focus, as well as provide strategic clarity to coalition and multi-organization initiatives, including facilitating the formation of the Early Learning Action Alliance.
Recent consulting engagements include facilitating Brave Conversations – a convening of over 25 youth services provider agencies to envision a better approach to serving youth, and strategic clarity work with behavioral health, substance abuse treatment, and cancer research organizations. An attorney by training, Laura has also served as Policy Director of the United Way of King County and Executive Director of the WA Public Health Association. She has also spent over 10 years working in local governments in the Seattle area, with a strong focus on policy research and policy advocacy to address equity in population outcomes.
A public school graduate from a family of teachers, Laura is the proud parent of two Seattle public school students and has been active in PTA and other district-level work in Seattle. For fun, she likes to get outside, travel, and to sample many of the new eateries popping up in the ever-changing region.
Welcome aboard, Laura!
Love what we do? Support our work
Want to find out the latest in education news in Washington? Subscribe to our newsletter
Want to learn more about League of Education Voters? Find out here