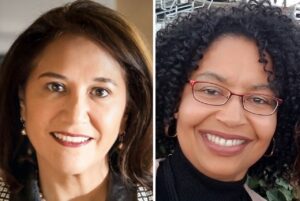 In our podcast, we interview policymakers, partners, and thought leaders to spotlight education policies, research, and practices so that together we can create a brighter future for every Washington student.
In this episode, League of Education Voters Communications Director Arik Korman asks Dr. Alejandra Barraza, President of the HighScope Foundation, and Sonja Griffin, Quality Practice and Professional Development Manager for the Seattle Department of Education and Early Learning, why it's important to invest in ages 0-8, what implementation of these investments looks like, how these investments impact K-12 student outcomes, what worked and didn't work in their own education journeys, and how they would transform our education system if there were no budgetary constraints.
HighScope provided the early learning curriculum adopted by the City of Seattle's Department of Education and Early Learning that works with South Shore PreK-8 in South Seattle, a close partner of League of Education Voters.
Listen:
Visit our podcast page for more interviews.
Read our 2021 Legislative Priority Issue Brief: Early Childhood Education (PDF)
Participate in our Action Alert to support the Fair Start for Kids Act 
Love what we do? Support our work
Want to find out the latest in education news in Washington? Subscribe to our newsletter
Want to learn more about League of Education Voters? Find out here