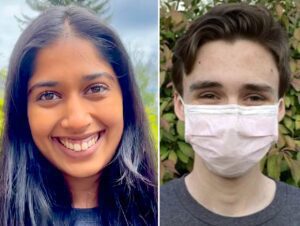 In our Putting Students First podcast, we interview policymakers, partners, and thought leaders to spotlight education policies, research, and practices so that together we can create a brighter future for every Washington student.
In this episode, League of Education Voters Communications Director Arik Korman connects with two students from the Washington state Legislative Youth Advisory Council (LYAC) about LYAC's history, how LYAC operates, LYAC's impact on education policy, and what they would change if they were in charge of the state's education system. Priyanka Mukhara is a First-Year Councilmember and Kellen Hoard is a Second-Year Councilmember and the Chair of LYAC.
The Washington state Legislative Youth Advisory Council (LYAC) is codified in law as the official youth advisory body to the state legislature, and its activities are wide-ranging. Throughout the year, 14-to-18-year-old student members of the council actively lobby legislators, testify in committee, advise various government agencies, host events around the state, collaborate with nearly 200 community organizations, and much more.  LYAC also spends much time conversing with young people in every corner of Washington about their priorities in order to be a more effective advocate to the legislature.
Listen on Spotify, Apple Podcasts, or Spreaker
Listen:
Read Kellen Hoard's guest blog – Students Need Mental Health Resources on Every Public School Website
Visit our podcast page for more interviews.
Love what we do? Support our work
Want to find out the latest in education news in Washington? Subscribe to our newsletter
Want to learn more about League of Education Voters? Find out here