As our students prepare to head back to school, the League of Education Voters is highlighting a few of the new public charter schools opening this fall. We recently sat down with Spokane International Academy's founding director Travis Franklin to hear about the school's opening.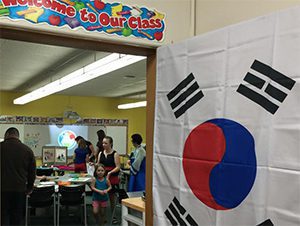 School began at Spokane International Academy on August 26 for students in kindergarten and in grades 1 and 6. Spokane International Academy's mission is to "empower students with the academic skills, habits of mind and global competence necessary to complete advanced courses in high school and a four-year college degree in order to become leaders who can powerfully transform their communities in the future." At full capacity, Spokane International Academy will serve grades K–8.
Spokane International Academy is a Cambridge International School and uses VIF International Learning curriculum, along with an inquiry-based learning model, to develop student global understanding and competence. Students will also learn Spanish as they progress through the school, and their parents will have the opportunity learn alongside them at no cost. Plans are also in the works to take students on international trips to Latin America.
Travis Franklin, the founder and head of Spokane International Academy, came up with the idea for a school five or six years ago, but it wasn't until Initiative 1240 passed that he thought the school had become a real possibility. Beginning in late 2013 through mid-2014, Travis and other members of the initial design team met bi-weekly to come up with a plan for the school—all while Travis was teaching sixth grade full time.
Travis says that one of the biggest champions along the way was Spokane Public Schools' Superintendent Shelley Redinger. Spokane Public Schools is also the state's first district authorizer for public charter schools.
One of the biggest surprises along the way for Travis was how interested the community was in the school, and how supportive they were. For him, it was a "Field of Dreams" moment. He left his teaching job in a great district to build this school and says there were multiple opportunities throughout the process where it would have been easy to give up.
Spokane International Academy opened on Wednesday with phenomenal staff and 172 students, all excited to be there and for the opportunities ahead.
Learn more about Spokane International Academy on their website.