By Kelly Munn, League of Education Voters State Field Director, and Jacob Vela, League of Education Voters Senior Policy Analyst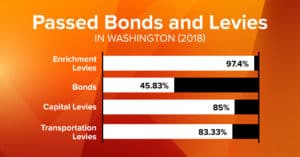 Last month, communities across Washington state voted on local levies to continue funding for enrichment programs and capital projects at district schools. Here are the election results and my analysis.
154 out of the 295 school districts in Washington state ran an Enrichment levy, and 150 passed. 42 levies passed because of simple majority, which is a 50-59.9% yes vote. Those districts that passed in the 50-55% range were mostly in the Puget Sound area.
24 school districts ran a bond, and 11 passed. 11 of the failed bonds would have passed with simple majority for bonds. Bonds currently pass only with a yes vote of 60% or greater.
60 school districts ran capital levies, and 51 passed.
6 school districts ran transportation levies, and 5 passed.
150 school districts passed an Enrichment levy.  It does not yet appear that the confusion around the new McCleary funding is effecting the overall passage rate across the state. 150 out of 154 school districts passed. Superintendent Jim Kowalkowski explains what passage of the levy means for his Davenport School District: "We are excited that many of the programs we offer for students (College in the High School, Satellite Skills Center, Knowledge Bowl, All-day Preschool, Project Lead the Way (STEM) courses, Choir and Drama Programs, etc., will continue to be a part of our educational offerings. We are so grateful to have such a supportive community!"
11 out of 24 bonds passed.  An additional 11 bonds would have passed if we had simple majority for bonds. Because of lack of classrooms, some students will not have the same opportunities as districts who can pass bonds. Every school district has different needs, but it is likely that some of the districts cannot provide all-day kindergarten for all of their students, because they don't have the building space to put the classrooms in. And, it is likely they won't be able to receive the additional funding for all day K that the school districts who have classrooms will receive.
This creates an inequality of education for students, just because they don't have enough classrooms. It also appears that the school districts who did not pass their bond, for the most part, exceeded the state average for poverty. The very children who need access to kindergarten the most may not be attending.  This is the beginning of the achievement gap that we are working hard to eliminate.
In addition, on the other end of the education spectrum, all school districts are supposed to implement an additional year of science next year. Science classes require science lab classrooms. Without the money to retrofit existing classrooms into science labs, or to build new classrooms, it is very difficult for the school district to meet the required 3 classes of science. The state is mandating the science classes because our state has extraordinary opportunities for our students in the Science, Technology, Engineering, and Math (STEM) arena. For our children to get these living wage jobs, they need more science. Again, we are creating an inequality, and frankly an inequity, for some of our poorest communities.
Cassandra Sage of the Lake Washington School District Board says, "With the failure of the bond, the district needs to find capacity for approximately 2,800 children over the next four years. Art and Science classrooms throughout LWSD have already been converted to grade level learning spaces. There are already 171 portables in the district. Even if funding was available, some school sites lack the space to place another portable. For rapidly growing districts, student learning space is vital. Without it we cannot offer the current quality of programming."
We need to work together again to pass Simple Majority for Bonds. Too many of our students are not getting what they need and deserve.
51 out of 60 capital levies passed. Capital levies cover a lot of the costs of maintaining or retrofitting our classrooms and schools. The capital levies can be used to bring in technology, fix roofs, upgrade HVAC systems, and improve water systems, just to name a few of the possibilities. Capital levies bring in additional money into the school, so money that should go to learning can continue to stay in the classroom. The state does not fund these types of upgrades, so capital levies are run. Capital levies are easier to pass in those school districts that have more property owners, and therefore spread the costs out more. Again, we are not funding our students equally or equitably.
There could be an impact on the donor districts, the districts in Puget Sound that, through their taxes, send money to the rest of the state. Many of the school districts who passed in the 50-55% rate were in the Puget Sound area, and they may be seeing some resistance to and/or confusion about increased taxes. We need to watch for this in the future.
Brooke Valentine, Kent Levy Committee member, says this campaign was different from previous years. "I have worked for years on my school district's levy/bond campaigns, and this year was drastically different, and not just because our district had some local issues it needed to address. While voter turnout wasn't any greater than in the past, there was definitely more conversation, more people questioning the value of their vote, and more confusion overall around how our state funds our schools. The results of that confusion based on decisions made last legislative session were never fully understood, or explained. I am still not sure if the Office of the Superintendent of Public Instruction (OSPI) fully understands what money schools will get over the next few years, and that uncertainty made these campaigns a heavier lift than normal."
Thank you to each and every person who helped to pass their bond and/or levy campaigns this year. It is a lot of work that you do for your students and for your community!
– Kelly Munn
The map below shows the recent results for the Enrichment Levy elections across Washington on February 13, 2018. The map compares the recent passage rate with the level of support a district's current levy had when it was passed by voters. The comparison year for district ranges from 2014-2016, depending on when their levy was most recently passed by voters. This data was taken from OSPI's School Financing Elections data. To see the map legend, just click on the double arrow button in the upper left corner.
– Jacob Vela
Love what we do? Support our work
Want to find out the latest in education news in Washington? Subscribe to our newsletter
Want to learn more about League of Education Voters? Find out here