After one long legislative session (followed by three special sessions), Governor Inslee signed Washington's 2015–2017 state budget into law late in the evening on June 30, averting a government shutdown by less than an hour. An unprecedented series of events ultimately delayed sine die until today, but with the true end of our historically long 2015 legislative session at hand, we take a moment to reflect.
What we see in this budget is a more comprehensive investment in education than at any other time in the state's history. Through their strong investments in public education across the spectrum, early learning through postsecondary, the Legislature has given all Washington's students more hope for their future.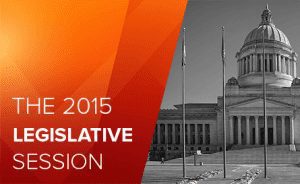 The League of Education Voters has long argued that a child's education should be a continuum with seamless transitions from early learning through higher education. We have worked with partners around the state in pursuit of that vision, including with the Cradle through College Coalition. It is gratifying to see the Legislature following through with strategies and investments that support students at all ages.
The Legislature supported early learning by passing the Early Start Act, which will create more high-quality childcare, help more families make better informed choices about child care, and, ultimately, help more children be ready for kindergarten. They also expanded the Early Childhood Education and Assistance Program (ECEAP), providing access to the program for 1,600 more children beginning in 2015.
The Legislature also put $1.3 billion toward "basic education" by fully funding full-day kindergarten and the state's obligation toward K–12 materials, supplies, and operating costs (MSOC) by the 2016–2017 school year. The budget also funds class-size reduction in grades K–3.
In addition, the Legislature funds cost-of-living adjustments (COLAs) for teachers per Initiative 732, as well as an additional $153 million COLA for teachers.
While the Legislature did not increase funding for the State Need Grant, they did reduce tuition at all public two-year and four-year colleges—by 15 percent for University of Washington and Washington State University students, 20 percent for regional four-year university students, and 5 percent for two-year community and technical college students. These reductions are back-filled by the state so the institutions can maintain all current services while increasing affordability and access to postsecondary education for approximately 200,000 students across the state. The Legislature also adds $41 million to the Opportunity Scholarship.
While the League of Education Voters is pleased by these strategic investments in an education continuum, we had hoped to see the Legislature tackle the biggest piece of the basic education puzzle—the over-reliance on local property-tax levies for basic education costs, including teacher compensation. This has resulted in statewide inequities, with schools in "levy-rich" districts receiving more funding and schools in "levy-poor" districts receiving less.
Although some legislators introduced legislation to reform our broken levy system, that legislation ultimately did not pass. The Washington State Supreme Court has ruled time and time again that the reliance on local levies to fund basic education is unconstitutional. We viewed this legislative session as an opportunity to address the inherent inequities in how our schools are funded; now we look to the Supreme Court to address this issue.
Nonetheless, our lawmakers have passed one of the best budgets for education in our state's history. We thank them for all of their hard work this session for public education, from early learning through postsecondary, and we look forward to seeing how schools across the state use their additional funding this coming school year to help all students succeed.