By Julian Sams
Guest Blogger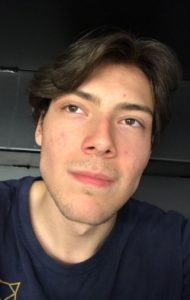 I didn't have the most conventional childhood. As an Army brat, home was all over the country – from Nevada to Tennessee, and a bunch of places in between. Since I never spent more than a couple years at any school, I didn't have a lot of guidance from my teachers. That all changed when we settled in Washington state my freshman year.
Unlike some of my friends, college had not been driven into my head from an early age – my parents did not have access to higher education – but they instilled in me a strong work ethic that's led me to where I am today: ready to receive my high school diploma as part of the first graduating class of Summit Olympus, a public charter high school in Tacoma.
I didn't get here on my own. I've been fortunate to have teachers and mentors who take the time to know my story, my learning style, and how I best study and digest information. My parents recommended Olympus because they had heard Summit prioritized college prep. It's this individualized approach, and long-term support, that's helped me plan my path.
Olympus has helped me focus on what I do want to do – become an engineer. My dad worked on drones in the Army, and I've always been fascinated by science and technology. In middle school, I was part of a lot of STEM programs, and I discovered my ability to solve complex problems.
To become an engineer, I know I'll need top skills in math and physics to succeed. That's why self-directed learning has been so crucial for me. At Olympus, we spend time on personalized learning, where we can complete our assignments at our own pace. My freshman year, I completed all my work in the first half of the year and was offered to test out of algebra. The test was 20 questions, and was considered a final exam that covered all the curriculum. In the second half of the year, I finished trigonometry, all before my sophomore year! Over the past four years, I've learned how to set goals, make a schedule, manage my time, and track my progress toward graduation.
Project-based learning has helped me better understand how engineers tackle complex problems. I saw this up close in my physics class last year. We had the opportunity to engage in a DIY experiment: using a marble, ruler, and a slow-motion camera, we determined what the landing spot would be for a car flying off a steep hill or ramp. During my time at Olympus, I've learned just how applicable the lessons we learn are. I'll never forget what my calculus teacher told me during one of her lectures, "I know people who work at Boeing who do the same thing as I do, just on a bigger scale."
My teachers are effective because they know me. They know my background and they've taken the time to learn how I learn. And everybody, from my mentor group to my teachers to our school leader, is committed to getting me to college. It's not just talk – it's action. Throughout my entire junior year, we focused on college-readiness, from FAFSA preparation to help with the application process. So far, I've applied to Seattle University and the University of Washington here at home, and Syracuse, Texas Tech, and Rutgers out of state.
I don't know what the future has in store for me. However, I do know I'll be prepared. With confidence and a passion for learning, I'm ready to take the next step.
Love what we do? Support our work
Want to find out the latest in education news in Washington? Subscribe to our newsletter
Want to learn more about League of Education Voters? Find out here