By Lizzeth Mancilla
Engagement and Policy Intern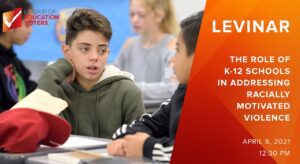 From police violence around the country to the marked increase in attacks on members of the Asian American Pacific Islander community, we are continuing to see disturbing examples of racially motivated violence in the news. Over the past year, social movements have been thrust into the national spotlight, with youth at the forefront of the conversation. Recent incidents are impacting them in multiple ways, but how should K-12 schools respond? 
In this webinar, we assembled a statewide panel of students, educators, and a community organizer to discuss the impacts of racially motivated violence and how schools can best support students on a daily basis. They also answered your questions. 
Our panelists included: 
Yubi, a junior at Shorewood High School, Shoreline School District, and the Director of Community Outreach with the Washington state Legislative Youth Advisory Council 
Lily, a junior at Mabton High School, Mabton School District, and a Second Year Councilmember with the Washington state Legislative Youth Advisory Council 
Ivy, a junior at North Central High School, Spokane Public Schools, and a First-Year Councilmember with the Washington state Legislative Youth Advisory Council 
Zana, a junior at Bethel High School, Bethel School District, and a member of Root of Our Youth 
Rena, a junior at Cleveland High School, Seattle Public Schools, and a member of the NAACP Youth Council 
Marlo, a freshman at the University of Washington and a member of Root of Our Youth 
Denisha Saucedo, a 6th-grade teacher at Kent Elementary School, Kent School District, and the 2018 Regional Teacher of the Year from the Puget Sound Educational Service District 
Jasmine Linane-Booey, a kindergarten through 8th grade World Languages teacher at Spokane Public Montessori, Spokane Public Schools 
Tina Van, the Community Engagement Coordinator from the Hilltop Peace and Community Center in Tacoma